The American people apparently have had enough of the usurpations of their spots and leisure time with the Marxist struggle sessions and are finally showing opposition of the Woke messaging.
Look no further than this detailed article by Clay Travis:
NBA is America's first Bud Light-style fiasco but you're not supposed to know that
The far-left-wing sports media has refused to cover the NBA's ratings collapse over its embrace of woke politics because they don't want to admit what happened
.
Bud Light's business has collapsed since April, plummeting 30% in consumption, the result of the company putting a trans influencer on a can to celebrate the NCAA's March Madness basketball tournament. The resulting social media brouhaha combined with the head of marketing deriding the brand's out-of-touch humor and fratty connotations has led to the most crushing boycott of a large consumer product brand in modern history. Bud Light, legitimately, might be finished as a popular beer.

As I demonstrated in May with an experiment that went viral, many beer drinkers simply refuse to be seen with a Bud Light.
The Bud Light backlash will be studied in marketing courses for the next 40 or 50 years as a perfect example of what happens when a brand alienates its core audience by embracing values antithetical to its core consumer. But many in the media are already proclaiming Bud Light as a unicorn, the first of its kind conservative boycott that has obliterated decades of goodwill for a company.
But this isn't true.
Conservative boycotts work
The most consequential consumer boycott of the 21st century didn't come from drinkers' rejection of a beer, it came from sports, in particular the NBA, which has destroyed its brand with a large percentage of the American sporting public by embracing woke, political, far-left-wing messaging in its games. So why haven't you heard about this despite the overwhelming data I'm about to lay out for you? It's simple: The American sports media is so far-left-wing that they have refused to share the data right in front of their eyes.
The American sports media overwhelmingly supports far-left-wing political messaging. They love it because it reflects their own ideals. The vast majority of the sports media wants sports to be filled with left-wing politics. They see it as an affirmation of their own personal beliefs and applaud it.

But this same media won't write or report the truth about the decline in the NBA's viewership, because to do so would be seen as a repudiation of their own worldview.

So they pretend everything I'm about to share with you hasn't happened.
I first became aware of the NBA backlash in 2017, when the league pulled its All-Star Game out of Charlotte. At the time I was hosting a morning sports talk radio show, our lines overflowed with sports fans, people who loved basketball, saying they were going to stop watching the NBA over the political decision. We talked about it on the show, and I wrote about it on OutKick, but the larger American sports media pretended I was crazy as I discussed the backlash.
The entire NBA brand is tarnished thanks to Silver and James' embrace of woke politics.
The woke sports media just wasn't willing to admit that sports fans might change their behavior over sports leagues embracing politics, even as the data showed that my listeners weren't lying; many were, in fact, turning off sports. The NBA fan boycott was Bud Light before Bud Light was. So, why is the Bud Light boycott everywhere, and this might be the first thing you've ever read about the NBA boycott?
Because there's no ardent fan base for Bud Light in the media. No one particularly cares whether Bud Light is or isn't a popular beer. So the data on Bud Light consumption, by and large, is reported on without bias. But the NBA ratings, which are every bit as reliable as the data on Bud Light consumption, if not more so, is ignored. But if the sports media had done its job, the Bud Light situation might not have happened. Instead of turning Bud Light into a verb (companies now speak of avoiding being "Bud Lighted"), companies would have said they hoped they didn't get NBA'd. There would have been more of a reticence for brands to wade into left-wing politics.

Even now, just the mere suggestion of the NBA's collapsing viewership will send the usual left-wing sports media subjects into fits of rage. Don't believe me? Search mentions of my name and NBA on social media once this story goes viral. The vociferousness of the response to facts and data — the willful blindness and fits of rage this story will entail — provides all the evidence of the bias I need. The left-wing sports-media simply can't handle the idea that Michael Jordan was right when he said the reason he didn't get involved in politics was because "Republicans buy sneakers, too."
NBA alienated fan base by going woke
It turns out, Republicans don't just buy sneakers, they also really like NBA basketball.

Or at least they used to.

Let's take a quick trip into the NBA's history to show you where the NBA used to be and where it is today. And let's start almost exactly 25 years ago today, when Michael Jordan stepped back for a jumper — subtly pushing off the Utah Jazz's Bryon Russell in the process — and drained a jumper to win Game 6 of the 1998 NBA Finals.

I was watching that game on television with friends in Nashville. I was 19 years old, having just finished my freshman year in college. Chances are, if you were a sports fan in 1998, you were watching that game too.

In fact, that 1998 game is the single most-watched basketball game in the history of America.
In fact, 35.856 million people watched that game, never before and never since have more people watched a basketball game in American history.

That game represented the absolute apex of the NBA's influence in American sporting life.

But it wasn't just that game alone, that six-game Jazz-Bulls series averaged 29.4 million viewers, an all-time high for the NBA Finals in America.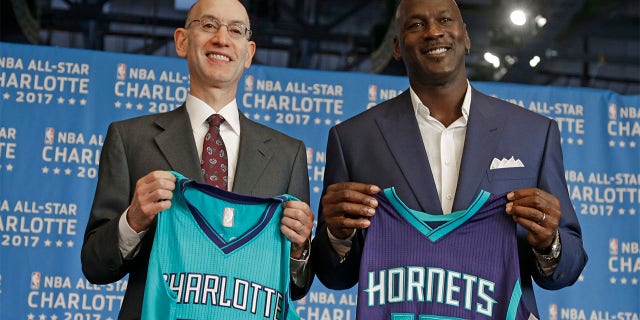 NBA commissioner Adam Silver, left, and Charlotte Hornets owner Michael Jordan pose for a photo during a news conference to announce Charlotte, N.C., as the site of the 2017 NBA All-Star basketball game, June 23, 2015. (AP Photo/Chuck Burton, File)
Twenty-five years later, this past season's five-game NBA Finals averaged just 11.64 million viewers, one of the lowest audiences on record and a continuation of the NBA's collapsing ratings. Indeed, four of the five lowest–rated NBA Finals of the past 30 years have occurred in the past four years. (12.4 million viewers in 2022, 9.91 million viewers in 2021, 7.45 million viewers in 2020.)

How did this happen? How in the space of a generation did the NBA, which created tens of millions of monster fans in the Jordan era, lose so many viewers? And why has this story not been told before? Why do so many of you have no idea this has happened at all?

Because the sports media won't admit what's clear: Many basketball fans have stopped watching the NBA over the past several years.
LeBron James, Adam Silver embrace left-wing madness
I think it's mostly a story about two superstars, one, Michael Jordan, who created a brand and a league that people of all types loved and another, LeBron James, who created a brand and a league that was fueled by identity politics. But it's also a story of two commissioners, David Stern, who did everything he could to build the largest fan base possible and Adam Silver, who let politics guide him instead of the game itself.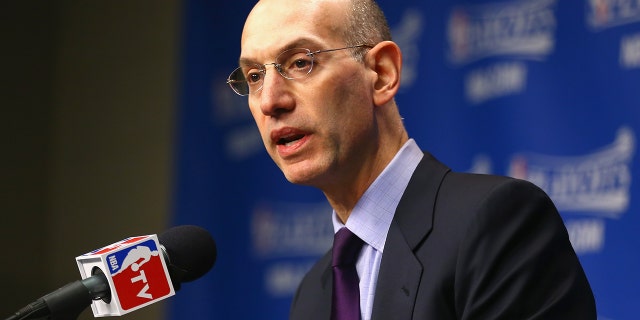 Adam Silver the NBA Commissioner talks to the media before the start of the Oklahoma City Thunder game against the Memphis Grizzlies in Game 4 of the Western Conference Quarterfinals during the 2014 NBA Playoffs at FedExForum on April 26, 2014, in Memphis, Tennessee. (Andy Lyons/Getty Images)
But before we dive into the brands of Jordan and LeBron, Stern and Silver, I want to forestall all the critics who are going to scream that people just don't consume sports on television like they did in the past.

This just isn't true.

This spring the most-watched women's basketball game of all-time was played — LSU vs. Iowa. 9.9 million people watched that women's basketball game, the most ever. That's more than watched the average NBA Finals game in 2021 and 2022.
Let me repeat that: More people were interested in watching WOMEN'S COLLEGE BASKETBALL in 2023 than the NBA Finals in 2020 and 2021. That is, at the same time that the NBA was setting all-time viewership lows, women's college basketball was setting all-time viewership highs.

And it's not just women's college basketball.
The opening rounds of the 2023 NCAA men's tournament were the most watched in history.

So people like basketball on TV; in fact just this very year all-time record highs were being set in college basketball, both men's and women's.

And it's not just basketball.
We saw an all-time high in viewership for the Super Bowl this year, too. 115.1 million people watched the Kansas City Chiefs play the Philadelphia Eagles, the most ever. That is, the single-most–watched football game of all time just happened in February.
Indeed, let's compare the 1998 NBA Finals with the 1998 and 1999 Super Bowl viewership. In 1998, 90 million people watched the Super Bowl, and in 1999, 83.72 million did. So a little over eight months after Jordan's game-winning basket in Salt Lake City, 47.8 million more people watched the 1999 Super Bowl than watched the highest-rated game of the NBA Finals.
That's the closest the NBA has ever been to equaling the NFL in viewership. (It became a regular debate topic on left-wing sports programming amid the NFL's Colin Kaepernick mess to argue that the NBA was going to eclipse the NFL, but the data was actually moving in the opposite direction.)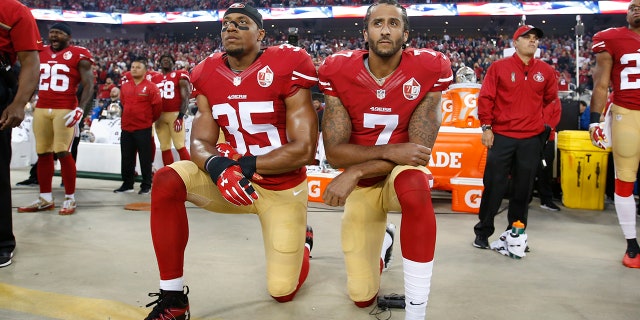 FILE – Eric Reid, #35, and Colin Kaepernick, #7, of the San Francisco 49ers kneel during the anthem prior to the game against the Los Angeles Rams at Levi Stadium on September 12, 2016, in Santa Clara, California. (Michael Zagaris/San Francisco 49ers/Getty Images)
This year, in 2023, 115.1 million people watched the Super Bowl, and just 13.1 million people watched the most viewed NBA Finals game, a gap of a staggering 102 million viewers, the largest gap between the NFL and the NBA in viewership history. So the NFL keeps adding fans, and the NBA keeps losing them. Think about that for a minute: 100 million more people were willing to watch the NFL's top game, compared to the NBA's top game, a gap that has never occurred in sports fandom before.

What about the NHL, what about MLB, some on social media will scream, well, they haven't seen anywhere near this precipitous decline over the past 25 years. (The World Series TV ratings also seem to have peaked around 1978 based on the data I can find, which is a different, pre-cable TV even existing, viewing environment than today.) And, for the record, there have been hundreds of pieces written about the decline of MLB national TV ratings over the past two generations. Although it is worth noting that MLB local ratings absolutely destroy local team ratings for the NBA in the markets where the two leagues compete.
Where did the viewers go?
So what's happened to the NBA collapsing viewership? Why has it happened? 

Let's dive in and discuss.

First, here's the past 30 years of NBA Finals ratings.
You can see there was a decline after the Chicago Bulls era ended, but then the NBA rebounded as Kobe Bryant became the face of the league, and a young LeBron began to rise as well.

What's interesting is that the NBA's rise didn't just correspond to Jordan, Larry Bird and Magic Johnson, it was directly connected to David Stern, the NBA's commissioner. Stern sold basketball as a sport for all. Does anyone remember the NBA is FANtastic that sold all of us on the joys of NBA basketball, of being a fan?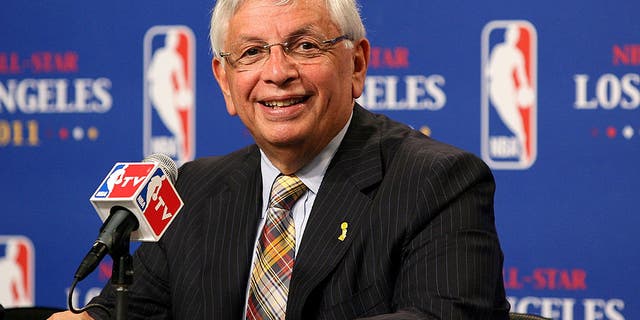 NBA commissioner David Sternn smiles during a news conference to announce Los Angeles as the host of the 2011 NBA All-Star Game before the start of Game Two of the 2009 NBA Finals between the Los Angeles Lakers and the Orlando Magic at Staples Center on June 7, 2009, in Los Angeles, California.
I could probably write an entire book on Stern and Jordan's NBA compared to Silver and LeBron's NBA, but Stern was a maestro of branding, he had his pulse firmly on where the American sporting public was. He took the NBA from airing on delayed programming — it wasn't even live when he became commissioner — to just shy of 36 million people watching a game.
Yes, Jordan was the linchpin, but Stern was the guru of the sport's ascendance. I have no idea what Stern's politics were like, by the way, just like I have no idea what almost anyone's politics were in that era of 1980s and 1990s basketball. We just didn't care. The sport was the main dish, we came for basketball excellence, everything else was noise.
NBA never replaced David Stern
But then Stern stepped down, and Adam Silver took office.

And do you remember the first thing that Silver did in office?

He forced Donald Sterling to sell the Los Angeles Clippers for making racist remarks. It's been nine years ago now, but that decision set the tone for what would be an embrace of left-wing cancel culture by Silver. (Whatever you might think of Sterling's comments, and certainly I repudiated them, the idea that someone could be forced to sell a team based on what he said on secret recordings was a new reality. I argued then that it was a bad precedent and continue to believe that it was. Sterling, whatever you think of his statements, was punished far worse for words than most in sports are for actual criminal actions.)
But it was three years later that Adam Silver cemented his woke leadership of the NBA by removing the NBA All-Star Game from Charlotte, North Carolina because of a transgender bathroom bill. That decision, which I believe was the worst made by any commissioner in the 21st century, set the table for the NBA being lampooned for insane hypocrisy surrounding China and other countries the league does business with that have a far worse record on human rights than North Carolina.
But Silver was universally praised by the boot-licking NBA media, they couldn't get enough of his left wing, woke politics.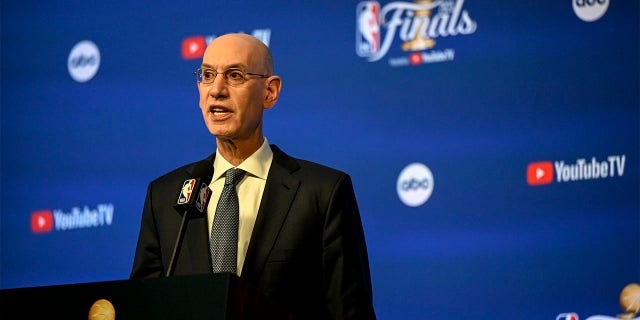 NBA commissioner Adam Silver speaks during a press conference before the first quarter of the NBA Finals game 1 between the Denver Nuggets and the Miami Heat at Ball Arena in Denver on Thursday, June 1, 2023. (AAron Ontiveroz/The Denver Post)
As Silver embraced woke politics, so, suddenly, did LeBron James, who said nothing political for much of his early tenure in the NBA, but, I believe, realized he wasn't going to ever be Jordan, so he started trying to become Muhammad Ali instead. (There's a long discussion of this in my last book, which came out in 2018). LeBron's first step in left-wing politics, at least that I can remember, came when he campaigned with Hillary Clinton in Ohio and then posed with a safety pin on his jersey after Donald Trump defeated Hillary in the 2016 election. (As a sign of left-wing solidarity in the early days of the Trump administration, left-wingers affixed safety pins to their clothes.)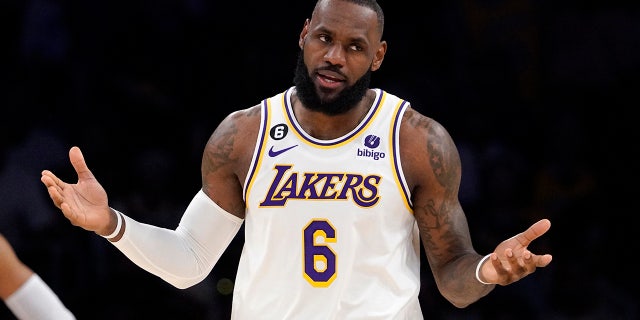 Los Angeles Lakers forward LeBron James gestures to a referee during the first half in Game 3 of an NBA basketball Western Conference semifinal against the Golden State Warriors Saturday, May 6, 2023, in Los Angeles. (AP Photo/Mark J. Terrill)
A few years later, LeBron claimed that a racial slur had been scrawled on the gate of his $20 million mansion — an allegation the Los Angeles police investigated and found no evidence ever occurred, a result you also probably never saw covered by the woke NBA media. All of this led to the 2020 season, when players took the court with "Black Lives Matter" emblazoned on the court and replaced the names on their jerseys with left-wing political slogans, including: Black Lives Matter, Say Their Names, Respect Us, How Many More, I Can't Breathe, Enough, Say Her Name, Vote, Justice, I Am a Man, Liberation, and the somewhat puzzling Education Reform.

This culminated when multiple teams refused to take the court for playoff games after Jacob Blake, a serial felon who was armed with a knife and attempting to attack a black woman in Kenosha, Wisconsin, was shot by a white police officer.
Let me repeat, the NBA canceled playoff games because players refused to take the court after a black man tried to attack a black woman, who had called police to protect her.
This all really happened. (Craziest of all, WNBA players, most of whom were black, actually took the court in handmade shirts praising Jacob Blake. You can't even make this stuff up.)
Nobody watched NBA Mickey Mouse championship
When the 2020 playoffs returned, American sports fans responded by turning off the NBA Finals even though LeBron James and the Lakers were playing. Just 7.45 million people watched each game, a decline of 75% viewership since the 1998 Jordan Finals highs. (The decline in viewership is actually much worse than the data reflects, as well. Since the fall of 2020, out-of-home viewing has been included to boost sports ratings. That adds around 15% to the overall total. So, when we compare Jordan's 1998 numbers to LeBron's 2020 numbers, LeBron's numbers are getting a 15% boost that Jordan's didn't.
If we add 15% to the Jordan 1998 Finals, Jordan's series would have attracted 33.35 million viewers to LeBron's 7.45 million, meaning the NBA's decline in viewership is actually even more significant than it appears. (By the way, LeBron's Space Jam 2, when adjusted for inflation, also did a fraction of the box office gross as Jordan's original Space Jam. When you combine that with Jordan's shows consistently trouncing LeBron's shoes — even after he retired, Jordan outsells every current NBA player combined — it turns out that appealing to everyone who likes sports is a much better game plan than only appealing to the woke.)

The 2020 NBA Finals were, admittedly, played in the bubble during COVID, but the 2021, 2022 and 2023 viewership has also been atrocious. Each of these four years represents four of the worst five years for viewership in the past 30 years. But do you know what had more viewers in 2020 than the NBA Finals?

A documentary about the 1998 Chicago Bulls!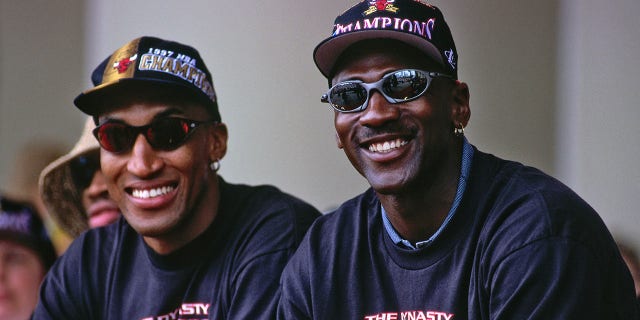 FILE – Scottie Pippen, #33, and Michael Jordan, #23, of the Chicago Bulls are seen smiling at the Chicago Bulls Championship Parade and Rally on June 16, 1997, at Grant Park in Chicago, Illinois. (Steve Woltman/NBAE via Getty Images)
Let me repeat that: A documentary about Jordan's 1998 Chicago Bulls that aired in May of 2020 on ESPN actually had more viewers than the actual NBA Finals with LeBron's LA Lakers airing on ABC.

But it hasn't just been the NBA Finals.

The entire NBA brand is tarnished, thanks to Silver and James' embrace of woke politics.

The 2023 NBA All-Star Game played in Salt Lake City had just 4.59 million viewers, an all-time TV viewership low for the all-star game. The last time the NBA All-Star game was played in Salt Lake City was 1993. That year, 22.91 million people watched. That means the NBA All-Star game, even with the 15% out-of-home bonus, lost a staggering 80% of its audience from 1993 to 2023.

Okay, the data speaks pretty clearly here, right? As the NBA has embraced woke politics, most notably in 2020, the NBA's audience has collapsed even as, significantly, the audience for college basketball, both women's and men's, and the Super Bowl has set all-time highs.
Now, to be fair, the NBA has many issues — top players taking games off as part of load management, a regular season that drags on for too long, players and owners that often seem to dislike the fans — but why are most of you just seeing all of this viewership data laid out like this for the first time? Why hasn't anyone pointed out that the NBA was the first Bud Light?

Because of the woke sports media, they've failed to do their job and simply share facts with sports fans. They've protected the NBA from the consequences of embracing woke politics, because the media loves the NBA embracing woke politics.
NBA created its own problems
But do you know who has seen this data and realized how much he's destroyed the NBA's brand?

Commissioner Adam Silver.

As I wrote above, the NBA memorably relocated the 2017 All-Star Game from Charlotte over the transgender bathroom bill in North Carolina. Well, guess what? The state of Utah passed two transgender bills far more consequential than that bathroom bill in the run-up to the 2023 All-Star Game. Utah passed a bill that requires all high school athletes to compete as the gender on their birth certificate —that is, no boy can identify as a girl and compete in Utah athletics as a girl — and a bill that denies gender transition treatments to minors.
Given that the NBA pulled its All-Star Game out of Charlotte over a bathroom bill, wouldn't these two bills, which are far more consequential when it comes to transgender issues, including one that deals with sports directly, demand the same result?

Silver was asked about it. "There was no discussion about moving the All-Star game from Salt Lake City," he said. "I think by us coming to Utah and demonstrating what our values are in terms of diversity, respect and inclusion, I think we can have the greatest impact."
Silver then attempted to explain the disparate treatment. "In North Carolina, we were working directly with the team there, and it appeared to us that there was an opportunity to have a direct impact on that law, meeting with and working with the larger business community.
"Our initial view working with the Utah Jazz is that we're going to have to find a way to work in that environment and to create an inclusive environment for our game, rather than take the position that we have somehow an independent ability to change the minds of the voters of Utah."

Why would Silver make this comment?

Because the NBA's television deal is coming up soon, and he realizes, even if he won't admit it directly, that the viewership data is clear: Embracing woke politics has been disastrous for the NBA.
Woke ideology will plague NBA
After its own Bud Light series of moves that alienated basketball fans, Silver is now repudiating the NBA's own decision it made in 2017. The NBA went woke, its ratings went broke, and now, after seeing the consequences, Silver is adjusting course. 

The NBA is trying to turn off the woke politics without the media covering the change. And so far, the left-wing NBA media is obliging, which is why OutKick is the only place in sports you'd ever read an article like this. 

It turns out Michael Jordan was right. Yes, Republicans buy sneakers, too, but they also like basketball.

Imagine how much better off the NBA, and American sports fans of all political persuasions, would be today if Adam Silver and LeBron James hadn't needed to learn this lesson.