Ben Bergquam was live on the scene in Washington DC on Friday, reporting on a large group of demonstrators gathered in Washington DC, representing numerous political groups. Participants included groups of Jews who said they wanted a cease-fire against Hamas. This known terrorist organization operates from the Gaza Strip in Israel after a highly provocative and sadistic attack on Israel's civil population earlier in the month, which ended as the single worst day of murder against the people of Israel in history.
Bergquam attempted to interact with the rally attendees and the following footage shows that it was not a pleasant experience for him.
WATCH BERGQUAM'S FOOTAGE OF THE RALLY:
Demonstrators rallied into the streets chanting "He, hey, ho, ho- the Occupation has got to go." Demonstrators were highly combative with Bergquam, as seen in the video at links below, trying to cover up his camera and yelling into bullhorns in his face- screaming- "Free-Free Palestine".
Bergquam asked a simple question, repeatedly, "If Israel ceases fire, will Hamas?" and none dared answer him; instead, they pushed Bergquam around and evaded the question.
These three were particularly hostile toward Bergquam: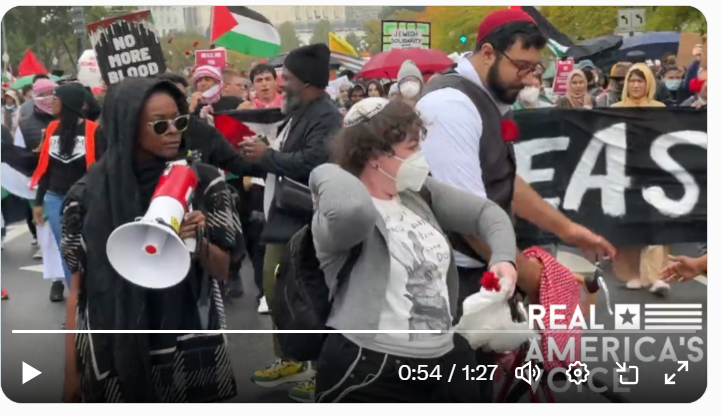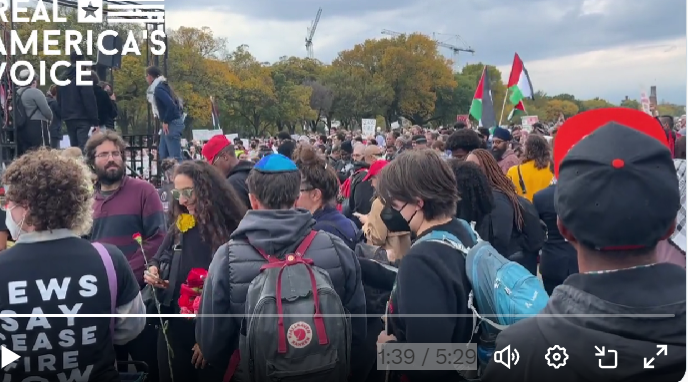 "It's amazing to watch people chant for a ceasefire, but when I asked if they condemn Hamas terrorists, they go silent! Apparently it's a one-sided ceasefire. They attack Israel then, when Israel responds, they scream for a ceasefire. That's not how it works guys."
DEMONSTRATORS SAID THEY WERE FIGHTING FOR "SOCIAL JUSTICE, GENDER JUSTICE, CLIMATE JUSTICE, RIGHTS FOR ALL WORKING PEOPLE":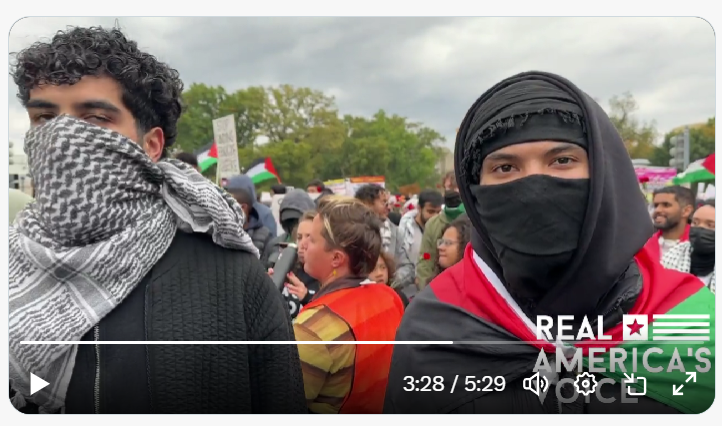 SEE BERGQUAM'S TWEET HERE WITH FOOTAGE
"More sights, and sounds from the Palestinian "rally for peace" today in Washington DC. Just wait till the end! I just had a couple questions… And, of course, when I say "peace," just like everything else the left does it's the opposite. Brought to you by Linda Sarsour, BLM, Climate Justice, #TRANTIFA, and apparently every other communist group in America."
SEE BERGQUAM'S TWEET HERE WITH FOOTAGE
LINDA SARSOUR REFUSES TO DENOUNCE HAMAS TERRORISTS: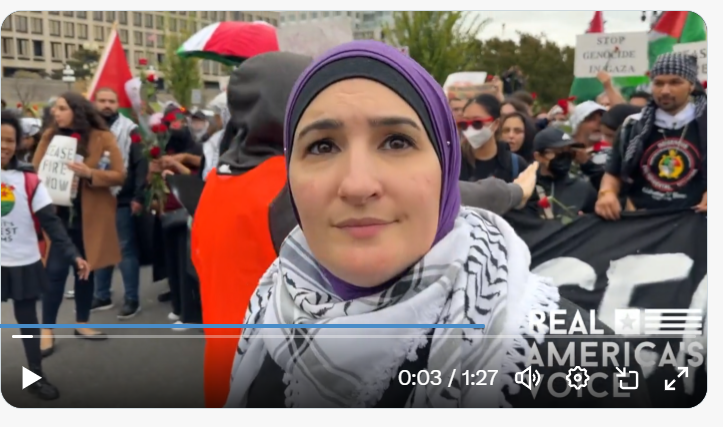 "Must see! Confronting Hamas and Muslim Brotherhood terrorist supporter Linda "So-Sour" Sarsour, and who is the guy at the end? Why do they always want to cover their faces? What is there to hide? Palestinian march Washington, DC"
SEE BERGQUAM'S TWEET HERE WITH FOOTAGE