Rep. Jamaal Bowman (D-NY) has been DETAINED and is being questioned about his criminal behavior.
From SATURDAY: HERE IS THE TWEET-SEE THE FOOTAGE
FROM MARCH: A VIOLENT MAN
SEE THE EXPLOSIVE BEHAVIOR BY BOWMAN DEMANDING GUNS BE REMOVED FROM AMERICANS
On Saturday, there was BREAKING news from Benny Johnson that the Capitol Police released security footage of insurrectionist Democrat Rep. Jamaal Bowman pulling the fire alarm in an effort to delay a House vote to keep the government open.
As seen in the posts above from March of 2023, Bowman, a former Middle School Principal, has been aggressive and emotionally violent toward Republican members of the House and has participated in other protests of the normal order in the House.
Shortly after the government gangsters voted to keep their corrupt funding of the government going, Johnson updated his tweet to read: "Rep. Jamaal Bowman has been taken into custody and is being questioned by police after pulling fire alarm before House vote."
Here is his Twitter Bio: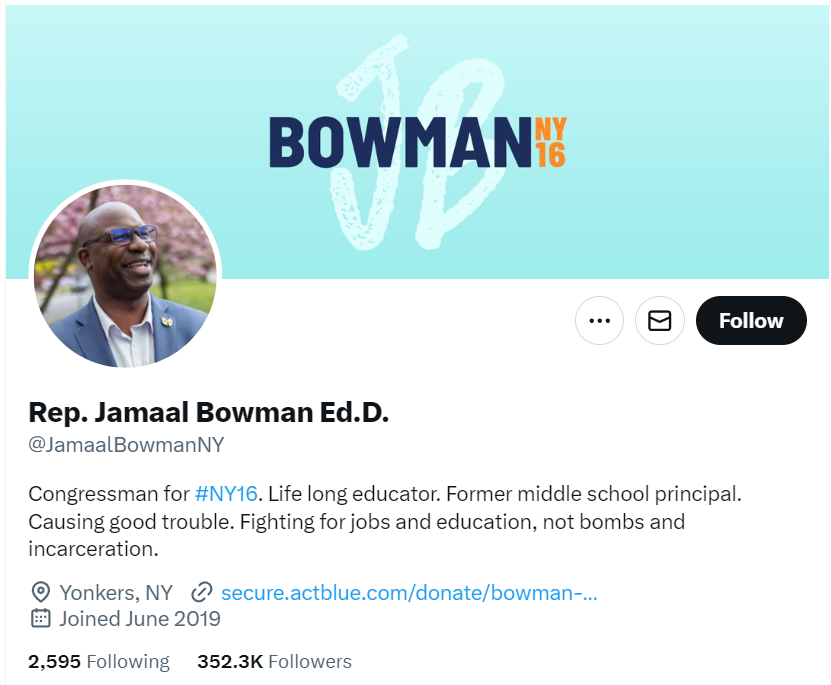 HEAR IT ON THE WAR ROOM
According to Fox News reporter Chad Pergram, a Bowman spokeswoman said that the former Middle School principal, Congressman Bowman, "did not realize he would trigger a building alarm as he was rushing to make an urgent vote. The Congressman regrets any confusion."
The Fire Alarm can be heard on this clip of the War Room from Saturday morning, around [1:45] of this segment, where US Rep. Tim Burchett was talking to host Steve Bannon:
THE MEMES MAKE THEMSELVES: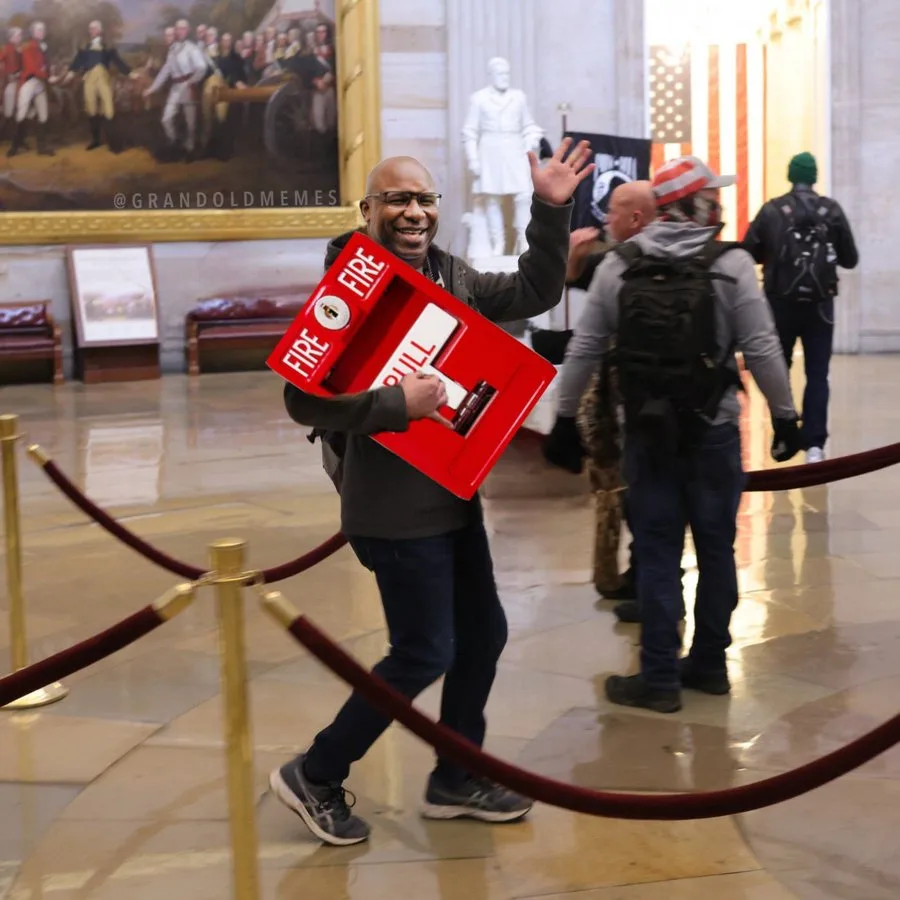 CHECK OUT THIS FOOTAGE OF BOWMAN TALKING ABOUT THE SERIOUSNESS OF JAN 6TH
Fox News reported on the details:
Progressive Rep. Jamaal Bowman, D-N.Y., pulled a fire alarm in one of the House of Representatives' three office buildings amid a chaotic morning as lawmakers scrambled to avert a likely government shutdown, the House Administration Committee said.
Committee Chair Bryan Steil, R-Wis., said the matter is being investigated now. Sources told Fox News and Fox News Digital that Bowman is being questioned by the Capitol Police's criminal investigation unit.
"Rep. Jamal Bowman pulled a fire alarm in Cannon this morning. An investigation into why it was pulled is underway," Steil said in a statement.
Fox News Digital reached out to Bowman's office for comment but did not immediately get a response.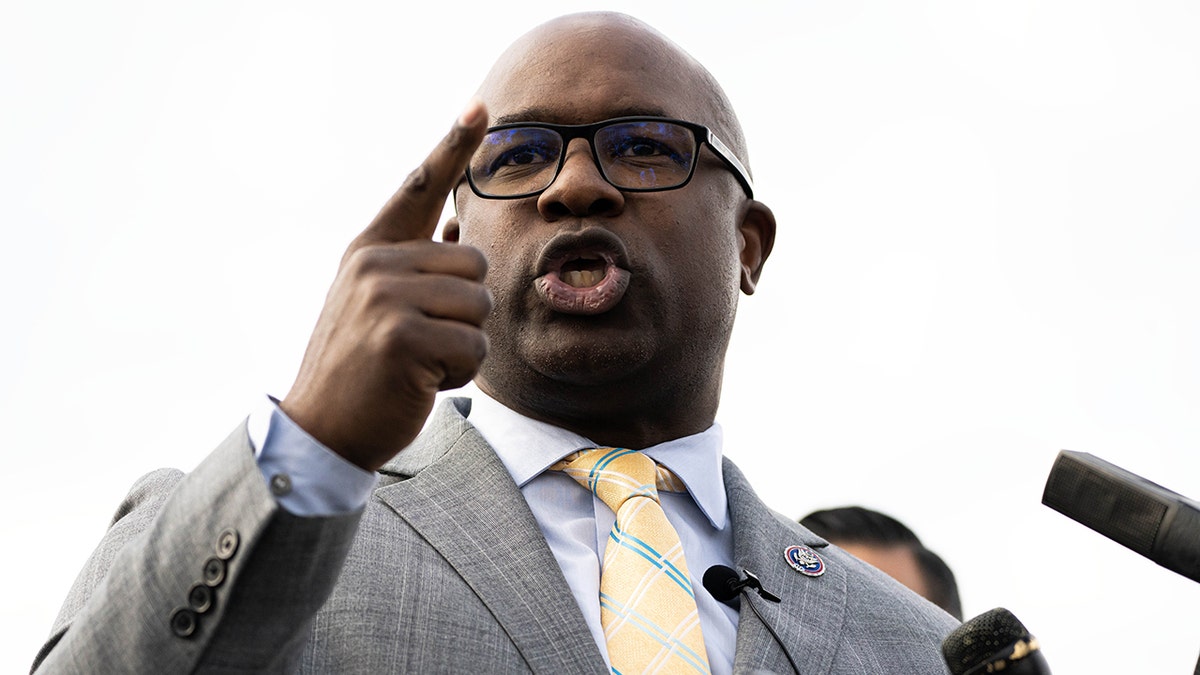 Representative Jamaal Bowman, a Democrat from New York, speaks during a news conference outside the US Capitol in Washington, DC, US, on Wednesday, March 22, 2023. The TikTok chief executive officer plans to tell Congress on Thursday his app does more to protect young users than rival social media and that Beijing has no authority over its data. (Nathan Howard/Bloomberg via Getty Images)
Sources said the incident was caught on camera, though video was not immediately available to Fox News Digital.
It happened just after House Republicans announced they would rush a stopgap spending bill known as a continuing resolution (CR) to the House floor on Saturday, just as the Senate is weighing its own CR as well.
Democrats were caught off-guard by the announcement and complained the GOP was not giving them enough time to properly read the bill, which is over 70 pages long.