Hunter Biden, the father of an abandoned little girl, is being denied and rejected by the entire Biden family. Hunter is refusing to pay what is due to her, and help his own child and the Biden crime family is making this situation worse by also using government resources to protect their deranged son from the consequences of his actions- by protecting him from answering questions from Real America's Voice correspondent, Ben Bergquam.
Hunter's denial of payments to the mother of his child comes at the same time it is revealed that the Bidens have a lot of money from bribes, and they were obviously afraid of anyone asking them about that
The US Government whisked Hunter Biden into a courthouse on Friday morning to protect him from media and public scrutiny, even though there was only one reporter on the scene.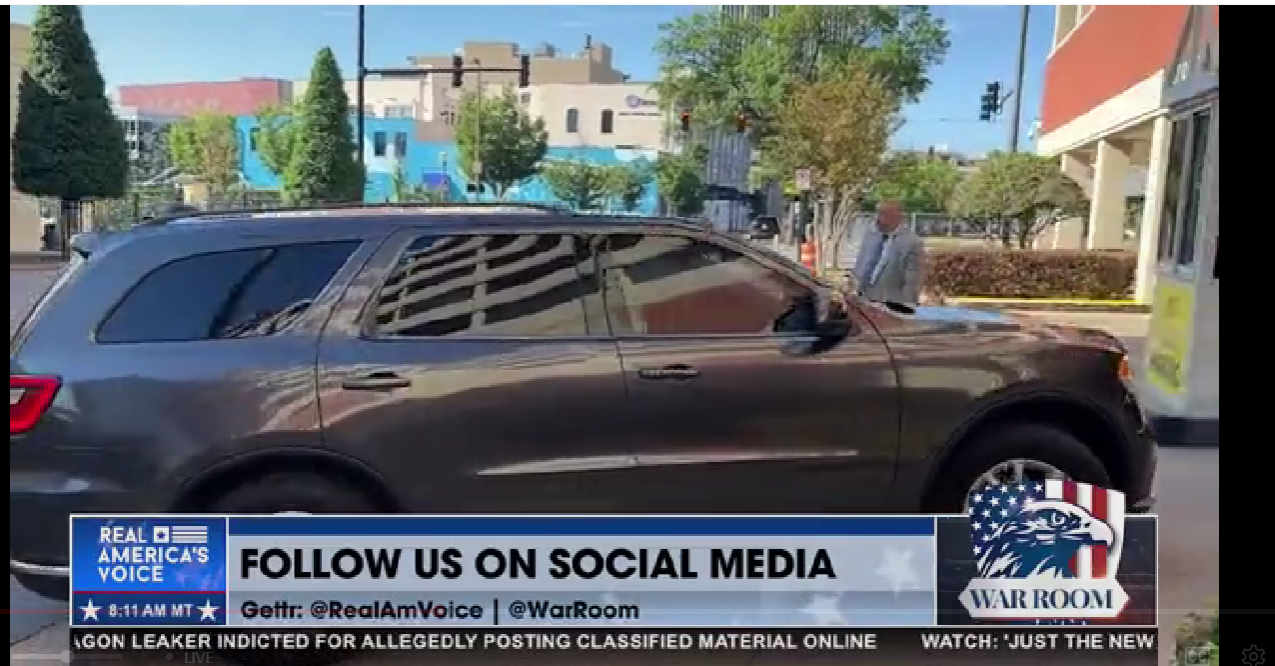 Bergquam reported to Steve Bannon on Friday morning from a courthouse in Arkansas where Hunter Biden was scheduled to appear to address payments to the mother of his child.
WATCH:
"I am the only media out here," Bergquam told Bannon setting the scene, adding: "There was one AP reporter right now, and these guys are spending millions of dollars to protect Hunter from me," Bergquam said.
"The most corrupt White House in history and I am the only media here to cover the most corrupt family in America. I guess there is a Daily Mail reporter somewhere but he is hiding," Bergquam said.
"It is War Room and Real America's Voice out here alone on the street, and that is happening after seeing the world's largest gathering of media on Tuesday in Florida," Bergquam told Bannon, referring to the court date for President Donald J. Trump.
Yet none of the media wanted to investigate the massive corruption of the Biden family.
Bergquam continued to report to Bannon live from the scene for War Room, and at about 11:00, Bannon reported that Bergquam was getting 'harassed", adding that Bergquam was being told he could get any photos of the Secret Service detail to protect Hunter Biden.
Bergquam returned and explained to Bannon that he was being told he could not film there, and video footage on the War Room showed Bergquam reminding the official that sidewalks are not private property.
Insider Paper reported about the court details last month:
According to recent court documents, Hunter Biden may face imprisonment if he fails to attend a court hearing next month related to the child support case, NY Post reported.
Hunter Biden could face jail if he doesn't show up for child support hearing next month
The case involves Lunden Roberts, the mother of his child born out of wedlock, as per the news report. Roberts alleged that Hunter has been deliberately withholding financial records in order to reduce his child support payments.
On July 10, in Batesville, Arkansas, Circuit Court Judge Holly Meyer will assess Roberts' request for penalties against Hunter, which could potentially lead to a jail term of up to six months for his refusal to submit the financial documents.
In addition to this, Roberts, who was once a stripper, is seeking the dismissal of Hunter's request to decrease the $20,000 monthly child support payments for their 4-year-old daughter, Navy Joan Roberts.
She is also requesting the judge to reject Hunter's opposition to changing their daughter's last name to Biden. Furthermore, Roberts wants Hunter to pay $20,000 to cover her legal expenses incurred during the legal proceedings regarding child support.
Judge examines Biden's statements and hidden financial information in court
The judge has indicated that the decision on the contempt motion against Hunter Biden will depend on whether his statements regarding his financial capability are truthful. During the previous court hearing in May, Hunter stated that he had already paid Lunden Roberts $750,000 since a DNA test confirmed that Navy was his biological daughter.
He also mentioned experiencing a significant change in his financial situation. However, during the same hearing, Judge Meyer reprimanded Hunter for excessively redacting the financial documents he provided to support his request for reduced child support payments.
Biden traveled to and from the courthouse in a lavish private jet belonging to his close friend Kevin Morris, which is estimated to have cost between $55,000 and $117,000. The journey began in Los Angeles and ended in Washington, DC. This extravagant mode of transportation was utilized for his court appearance in the ongoing paternity case.
The case was initially filed by Lunden Roberts in 2019 after Hunter denied being the father of the child. However, when a DNA test confirmed his paternity, Hunter agreed to provide child support. The case was later reopened in September when he requested a reduction in the support payments.
We will update this article as new details emerge today.