The news startled people starting late Wednesday night, as numerous people posted on social media that Democrat Katie Hobbs, who her seat in 2022 in a highly suspicious election, had stood down from her position after a constant barrage of lawsuits aimed at unseating her.
No reason was given for this drastic change in state leadership. And the woman who took over, Republican Kimberly Yee, according to political watchers, is the third in line for state power, making a strange situation seem ever more bizarre.
One poster on social media had an idea of why the change-up was about:
"@katiehobbs@AZSecretary and@AZAGMayes are currently using the transfer of power to break the law. This is why
@AZTreasurerYee Is in control.
They are all currently at an event for
@norscodems, and the only reason to relinquish power at a political event is to do one of the following items. What are they hiding? -Accept gifts or other compensation from lobbyists or special interests -Use state resources for personal or political purposes -Engage in self-dealing or insider trading -Conflict with their official duties Abuse their power or authority Violate state ethics laws.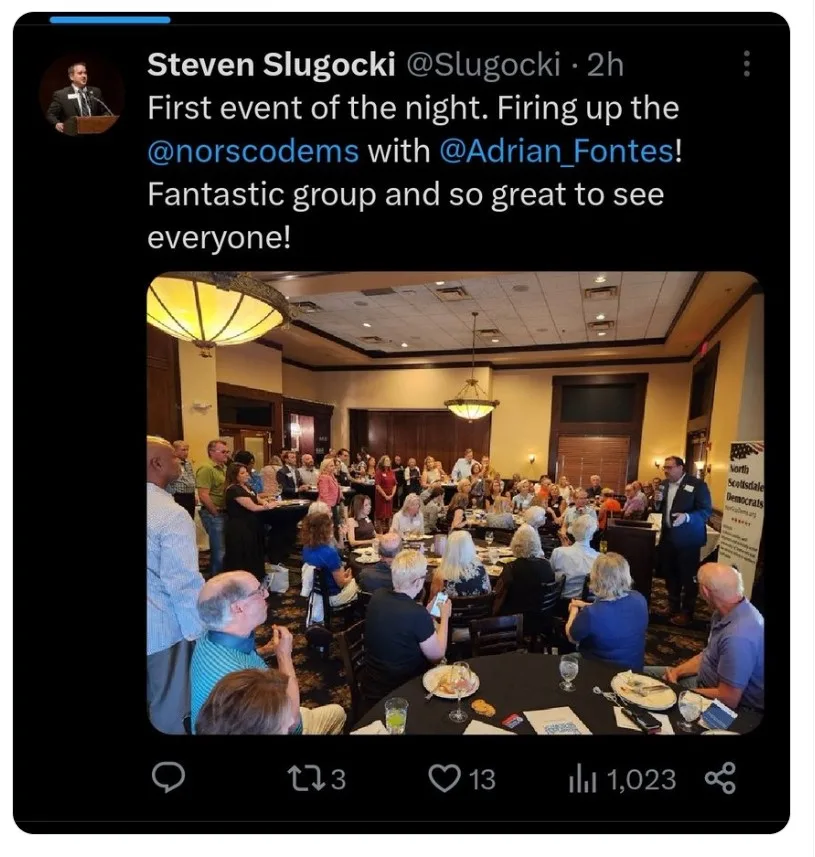 Residents of AZ were just left to speculate what was happening.
" ATTENTION: At this time Katie Hobbs is no longer the Governor of Arizona. Republican Kimberly Yee the state treasurer is currently the Acting Governor. The reason why is currently unknown at this time," posts on X (formerly Twitter) read.
The mysterious news comes as America is at a tipping point from a massive surge of illegal invaders that has been detected coming from the open borders, many of them crossing from Mexico into Arizona.
Local AZ News reported that he top elected Republican in Arizona is refusing to recognize the "executive deputy directors" named by Hobbs.
"State Treasurer Kimberly Yee said she did not allow those tapped by the governor as heads of two state agencies to sit at a meeting this week of the State Board of Investment. That panel reviews the $30 billion in investments of the treasurer and actually serves as trustee for certain funds," AZ Capitol reported.
Fox News reported on some of the details:
"On Wednesday evening, the Arizona treasurer announced that she will be serving as acting governor beginning later this evening until mid-morning tomorrow amid a mysterious disappearance of Gov. Katie Hobbs.
In a press release on X, formerly known as Twitter, Arizona Treasurer Kimberly Yee announced her brief tenure as acting governor, saying that she is "pleased to step in this role."
The Republican state treasurer noted that during her less than 24-hours as acting governor she would refrain from confirming the thirteen agencies that still hold vacancies and wait for the Democratic governor to fill them upon her return.
"While I am pleased to step in this role, I will refrain from naming directors to the 13 agencies that currently have vacancies and will not call the Arizona Legislature into session to confirm them," Yee said in an X post. "That being said, I do hope when the Governor returns to Arizona, she will promptly name qualified directors to these important state agencies."
"I expect to see a quick resolution on this matter, so we can get the work done for Arizona taxpayers," Yee added.
Yee refrained to comment on the governor's absence in her press release and did not immediately respond to Fox News Digital's request for clarification. Hobbs also did not immediately respond to Fox News Digital's request for comment
Something strange is happening.
Earlier in the week, the AP reported a scolding message to people about Hobb's:
"Social media users are falsely claiming that Arizona's governor has been "indicted" by local lawmakers. Here are the facts:
CLAIM: Gov. Katie Hobbs has been indicted on racketeering conspiracy charges by the state senate.
AP'S ASSESSMENT: False. The Republican leadership in Arizona's state Senate say no such indictment has been issued, and the state legislature isn't authorized to issue such formal accusations of criminal wrongdoing."
We will update this story as more details become clear.