The embattled Democrat administration has filed a lawsuit against Norfolk Southern following an early February train derailment in East Palestine, Ohio, according to WKBN news.
The civil lawsuit claims Norfolk Southern unlawfully polluted the nation's waterways.
According to court records, the U.S. Attorney General, Merrick Garland, says the derailment led to the combustion of hazardous materials carried by train, and their release into the air, soil, groundwater and waterways.
Biden is asking Norfolk Southern to pay the full cost of environmental cleanup.
So the government proves that they have money for many things but no money for Ohio, as suspected for two months.
The lawsuit also asks the judge to make Norfolk Southern take action to ensure the safe transport of hazardous materials.
Biden's refusal to help the state has left people frustrated. In recent days and months Biden has funneled money to Ukraine and to bail out wealthy customers of failed banks.
But Ohio Residents are going to get nothing. Residents in the area described being left on their own to figure out how to deal with the aftermath of a disaster.
States are refusing to accept toxic water from East Palestine, Oh, and everywhere people are feeling frustrated about the US government's lazy and slow response to a massive multi-state disaster from a derailed train and later a massive explosion that contaminated the air, soil, and water.
"Tanks and mountains of toxic waste in East Palestine, OH. Another reason why the Democrats are inditing President Trump – they have to hide the reality of the disaster that they've been for this county! #AbandonedByBiden," Ben Bergquam, a correspondent for Real America's Voice, reported while on location in area after the two day Town Hall event for the network.
Bergquam had spent time investigating the water beds, and talking to the residents who have not gotten any assistance from the Federal Government – even about the easy things they could do, like simply explaining the situation to the residents who are affected by the aftermath of the early February train derailment and explosion.
Bergquam investigated the large containers that some townspeople had told him had shown up recently.
"Each one of those holds over 600,000 gallons of the contaminated fluid coming out from the crash site which is just 100 yards that way down the road from the site of these containers," Bergquam said pointing to the pump trucks.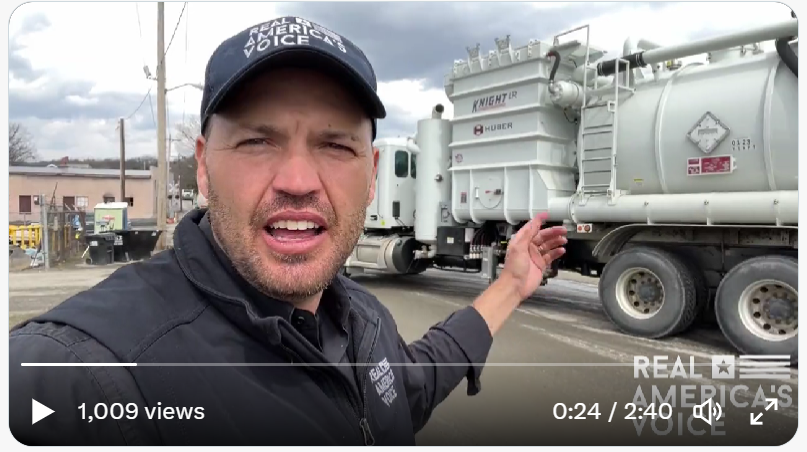 He explains in the following video about the Trucks and what he found out about the large containers:
Baltimore blocks treatment of contaminated water from Ohio train derailment
Shipments of dirt and wastewater have prompted concerns in communities across the country, complicating the derailment cleanup
An environmental company abandoned a plan Tuesday to treat contaminated runoff water from East Palestine, Ohio, in Baltimore after city officials blocked it from using the sewer system, the latest challenge to cleaning the train derailment site amid opposition from communities unwilling to accept waste.Clean Harbors told Baltimore officials last week it was preparing to receive train car loads of wastewater contaminated after the Feb. 3 derailment for processing at a facility in the Maryland city. Leaders in Baltimore and Maryland said they worried about risks the water might pose to a struggling public sewage plant in the city.
State officials didn't initially believe they could block the water shipments, which are being overseen by the federal Environmental Protection Agency. But late Monday, Baltimore Mayor Brandon Scott (D) announced that city lawyers had concluded he could modify a sewage permit and effectively halt the treatment project.
"I extend my deepest sympathy to the East Palestine, Ohio, community as they grapple with the effects of this devastating derailment on their community, but I must remain steadfast in my commitment to protect our residents — at all costs," Scott said in a statement.
Baltimore is the latest community across the country to balk when learning it would be receiving waste from the derailment site, complicating the cleanup effort as mistrust over the handling of the environmental fallout ripples far from East Palestine. It comes as EPA officials said in a letter this month that states could not stand in the way of shipments of dirt and water from East Palestine that were bound for properly licensed facilities.
The federal agency is overseeing the remediation, which is being carried out by Norfolk Southern, the railroad that operated the derailed train. An EPA official wrote that the waste had been subject to more testing and analysis than many other loads regularly accepted at processing facilities.
"States have no basis to prevent receipt of out-of-state waste from East Palestine, particularly while allowing similar wastes to be disposed in their states," wrote Barry N. Breen, an acting assistant administrator.
The agency did not respond to a request for comment Tuesday on the situation in Baltimore. When Oklahoma blocked a shipment of dirt headed for a Clean Harbors facility there, the EPA said the state's actions were "unlawful."
The wastewater that had been destined for Maryland consists of runoff from dirt that was contaminated by chemicals on the derailed train, as well as stream water from near the site. It was bound for a facility that Clean Harbors said would handle it safely.
Norfolk Southern said it has removed about 9 million gallons of water from the derailment site — equivalent to almost 14 Olympic-size swimming pools. In a letter to Baltimore's Department of Public Works last week, Clean Harbors said the water contained vinyl chloride and two kinds of chemicals known as PFAS. The company said it planned to treat the water using a process known as carbon adsorption, the same process used by home drinking-water filters.
The shipments were scheduled to leave East Palestine by rail beginning Thursday. Clean Harbors said Tuesday it would abide by Baltimore's decision to restrict access to its sewer system for disposal of the water.
"While we are confident that our Baltimore facility is safe to handle and process that waste, as we have made clear from the beginning of this process, we would only be moving forward with the approval of all federal, state and local regulators," the company said in a statement.
After the 149-car train derailed, authorities conducted a controlled burn of five cars carrying vinyl chloride. The fire sent thick, black smoke billowing over the Ohiocommunity. Norfolk Southern, which has been conducting air and water monitoring, has repeatedly said no dangerous levels of contamination have been found. But East Palestine residents have reported health problems and raised questions about long-term environmental effects on their community.
Concerns about how to handle the contaminated soil and water runoff have complicated the cleanup effort for weeks. The EPA paused shipments from the derailment site when it decided to take a more active role in the remediation work, leading Sen. J.D. Vance (R-Ohio) to question officials about the pace of the work.
"Right now, as we speak, there are piles of dirt accumulating in East Palestine, piles of dirt filled with toxic chemicals that haven't been moved out of the state in a week," Vance said this month at a committee hearing on the derailment. "We need leadership. We need the EPA to get on the ground and aggressively get this stuff out of East Palestine into properly licensed facilities."
Despite assurances they can be handled safely, the shipments have caused uproar in communities slated to receivethem. Sen. Debbie Stabenow (D-Mich.) questioned why officials in her state hadn't received more information about waste shipments headed there.
"Do you think it was acceptable that the company started moving toxic waste from East Palestine to Michigan without notifying Michigan officials?" Stabenow asked Norfolk Southern chief executive Alan Shaw at the same hearing.
"We were taking product to facilities that were specifically designed to handle this type of material," Shaw said.
Toxic air pollutants in East Palestine could pose long-term risks, researchers say
Hundreds of residents of a small Indiana town showed up for a town hall after they learned that soil would be handled at a nearby landfill. Indiana Gov. Eric Holcomb (R) issued a statement objecting to the plan.
While the EPA has said states can't stand in the way of the federally mandated cleanup efforts, the agency did agree to additional testing of waste headed to Indiana. In Oklahoma, Gov. Kevin Stitt (R), meanwhile, successfully blocked a shipment of dirt that was headed to his state in mid-March.
"There are too many unanswered questions, and ultimately, I made the decision that this is not in the best interest of Oklahomans," he tweeted.
Here is some of our other coverage: