Student surveys about' social emotional and behavioral health' are becoming a topic of national discussion, but for almost a full year, some teachers and parents have sounded the alarm bell about the suspicious motives and harmful consequences behind these invasive and mysterious surveys.
And the evidence is emerging that most school staff have little understanding of the surveys themselves, so parents who are concerned are met with frustration trying to get answers. One Mom, a substitute teacher in North Carolina, told me about what she discovered in the maddening world of school surveys.
"My most profound discovery is that in some schools you have to opt in to take the survey, in some schools you have to opt out. The people in the administration don't know anything about these surveys, even if they wanted to help us," Kathryn Stamou, a resident of Wake County North Carolina, told me. "There is no transparency, and that is leading to great distrust here in Wake County. We can't even figure out when the tests are given to know when to opt in or out."
Here are three correspondences from Holly Grove Middle School, that Stamou received about the timing of the surveys when she inquired about the opt-out procedure: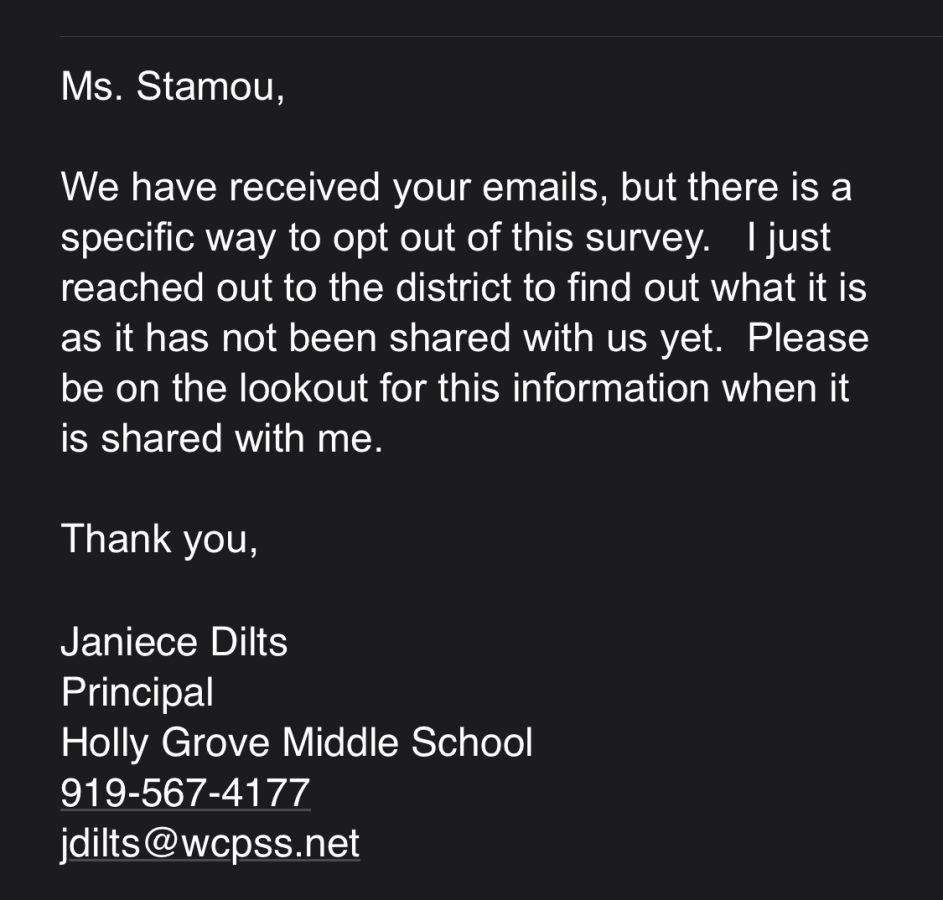 "I know the mask mandate and the vaccine is a priority for a lot of people, and it should be, but I feel like we need to let students know they can opt-out of these surveys. I have been asking for help for a year now. I have even asked to be removed from a priority substitute list because I do not want to indoctrinate my friend's children. I don't know where to turn, or what to do. When I saw a posting on Amy Marshall's Facebook page about the surveys, I finally found some people to help me get this story out. People are coming in the back door at our kids, while people are focused on other things. I really want people to understand that,"  Stamou told me.
Stamou told me that it started when her son asked her about something that shocked her; he asked her what "binary and non-binary" meant over dinner one night, and that led Stamou to investigate how her son even heard such a concept.
"I asked him how he answers and he said he just picked one," Stamou said, questioning who was looking for such a response and why.
"He got the phrase from an 80 question survey, from survey monkey, which was prodding my child's mind for information about politics and other things that really upset me," she said.
She went and found the survey through her own investigation. These screenshots are of the actual survey given to her child, which she had access to from his online classroom portal.
STAMOU TEACHES PARENTS ABOUT THE SECRET SURVEYS
Questions that force a child to affirm made-up concepts about race, especially their creation called "white privilege", and that promoted the need for social justice medicine: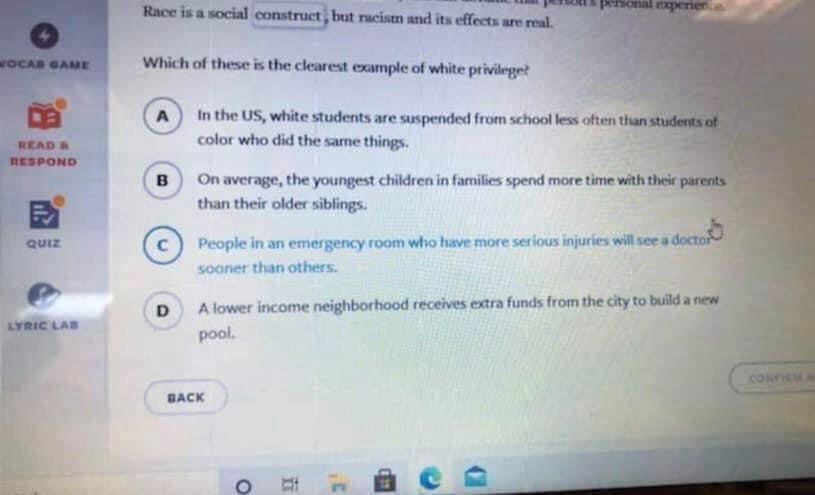 Questions examining the private thoughts a child had, which they may or may not have answered correctly and which should only be discussed with professional mental health practitioners: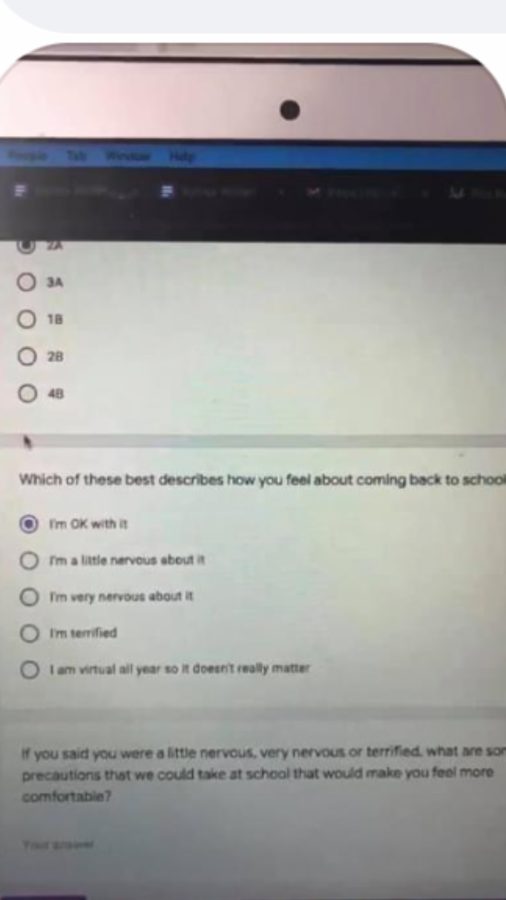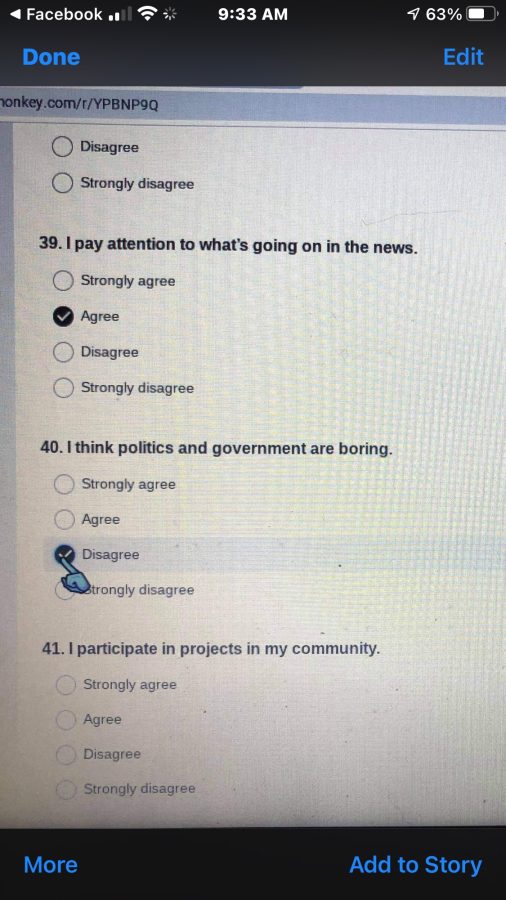 "This is what I found out. The teachers do not know what is on the survey, this is coming from an outside group. I could not see who the survey was being given on behalf of, there was no marking on the test to indicate that. You had to answer each question before you could go on to the next question, and you could not go back to change an answer. We are never told who is using this data and it is attached to our children's student portal number," Stamou said.
WHAT HAPPENS IF YOU DO NOT OPT-OUT?
Stamou shared with me a text conversation about the surveys with a teacher who said that she was filling out a "Universal Screener for Behavior-Social emotional" survey on each child in her class who didn't opt-out.
The teacher, who does not have the background to diagnose children, and who can not see the child's expressions in class behind their facemask, was required to answer questions to determine mental or emotional dysfunctions. Stamou says that is too much of a burden on teachers, and many are not happy about these tasks.
The teacher, by text, told Stamou that she had to answer for each student, regarding "attention, sadness, anger, alcohol and tobacco use, and required to answer whether each student "wanted to hurt themselves or others and if they are behaving to their full potential." Many people will agree that it is frightening exploitation of parents' and students' trust, and perhaps it is even malpractice and fraud.
It begs the question of who is protecting these teachers from being forced into these terrible choices, where they could lose everything? Do schools have special immunity from the laws?
"When I raised concerns on social media, with other parents, I found a mixture of comments ranging from me being a bad parent because I don't teach my children about alternative lifestyles, to evidence that there is a deep lack of trust in Wake County between the parents and the schools. And it is on both sides. Wake County has this sense of entitlement that they deserve to indoctrinate our children into these ideas and they don't trust the parents to raise our children. I am not going to name any names, but other teachers agree with me," Stamou said. Stamou says she has been censored in groups from talking about what she discovered.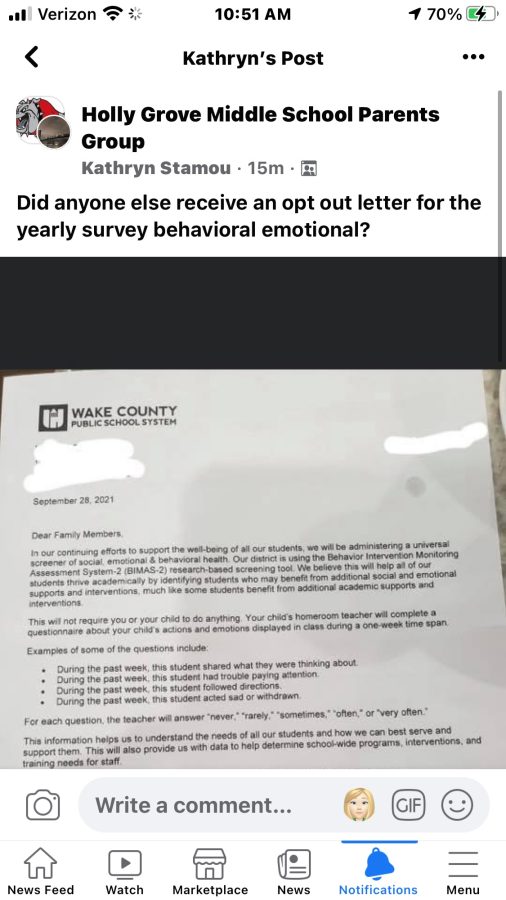 "This is what concerns me the most, that parents and students don't know that they can opt out. They don't have to take the test," she said, detailing her motivation for bringing this story to the media.
"I asked to be removed from sub lists for certian schools so I don't have to administer these tests, but I also want to keep my job, espically if I need to provide for my family someday. I am worried that by bringing this forward I will be removed from other priority substitue lists, but I have to tell this story. Our children are being exploited," Stamou courageously told me about why she continues to warn others. "It is not about me agreeing with lifestyle choices, as I have been accused of being. It is about data collection and the lack of transparency, and it is about children not having to tick a box, and being told they have to fit into that box. When did schools decide that they were going to stop teaching children to think and start thinking for the student?"
Through a parent's advocacy group in North Carolina, Stamou has been assisted with support at school board meetings and guided to provide all of this information to the Anti-Indoctrantion Task Force for Lt. Governor Mark Robinson. That link is found at the following site:
WHILE INVESTIGATING THE SURVEY, SHE FOUND ACCESS TO PORN-THAT SHE DISCOVERED IS REQUIRED READING
In her child's online classroom portal, she also discovered that children can choose books, which have been recommended by teachers, that contain materials that should be considered indoctrination: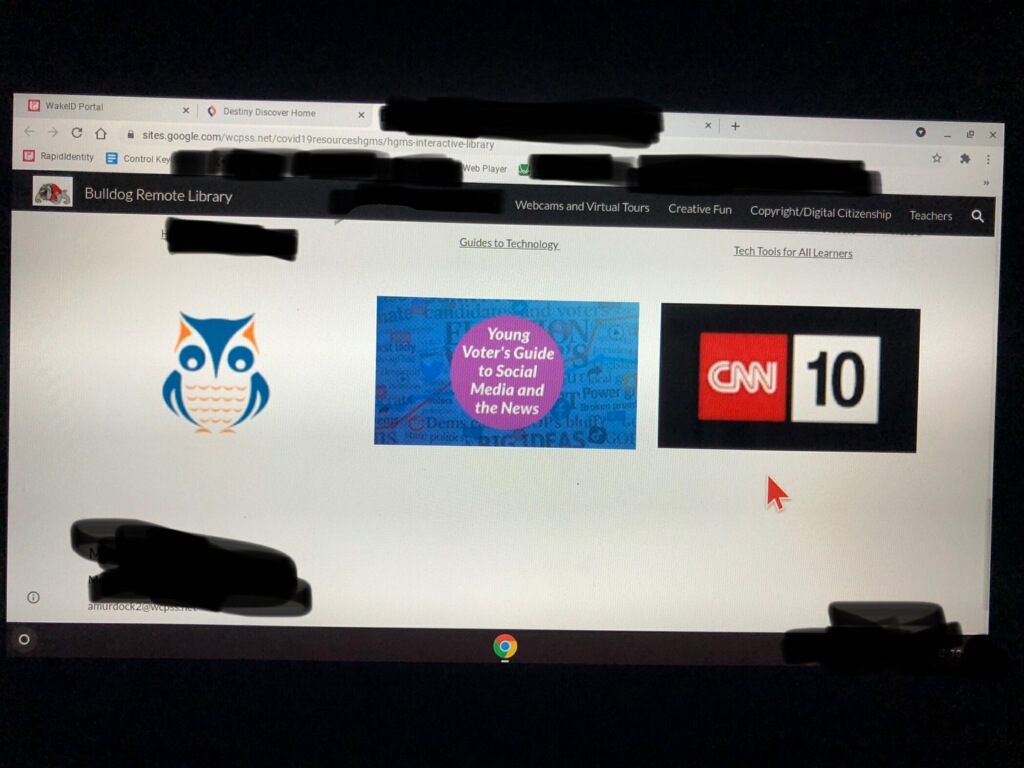 While there, she found a book called "Fun Home" which is required reading for nearby "Apex Friendship" High school: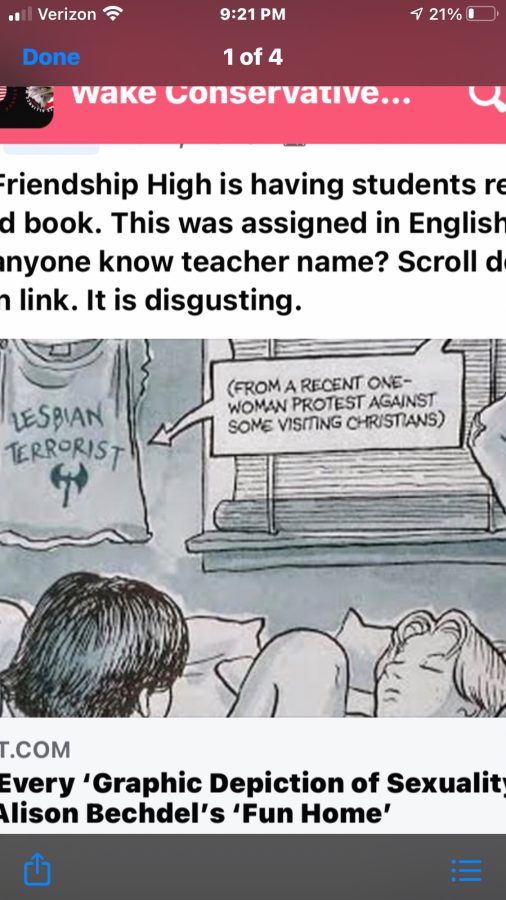 We will update this article as needed.