Racism may have jumped the shark in the US House of Representatives on Wednesday as radical Marxist Rep. Cori Bush, who loves to fight with every Republican about racism, turned to Twitter to trash the brave Republican nominee US Rep. Byron Donalds for agreeing to run for one of the most powerful positions in all of the Nation.
Bush was BIG mad because the nominee is a Black American Man.
"You should be thrown out of the House for this racist shit. Unbelievable you think it's okay to talk to a fellow brother this way. Turn in your Black card, Cori," Laverne Spicer posted in reaction to Bush's bombastic tweet.
Bush was furious that the Republicans would follow in the footsteps of the other great Black American Republicans and nominate a Black man for the position.
In fact, Bush freaked out and made racist comments about Donalds's qualifications for the position, saying he didn't deserve the poison and he was not qualified for the position- saying in fact, that she thinks he is a "prop".
A prop of all things!
"Did Pelosi ask you to tweet this? This is wildly racist," Kim Kalacik posted to Bush.
The 46 year old  Black Lives Matter activist serving as the U.S. representative for Missouri's 1st congressional district. The district includes all of the city of St. Louis and most of northern St. Louis County, making nasty racist comments about Donalds, who represents the America First wing of the Republican party.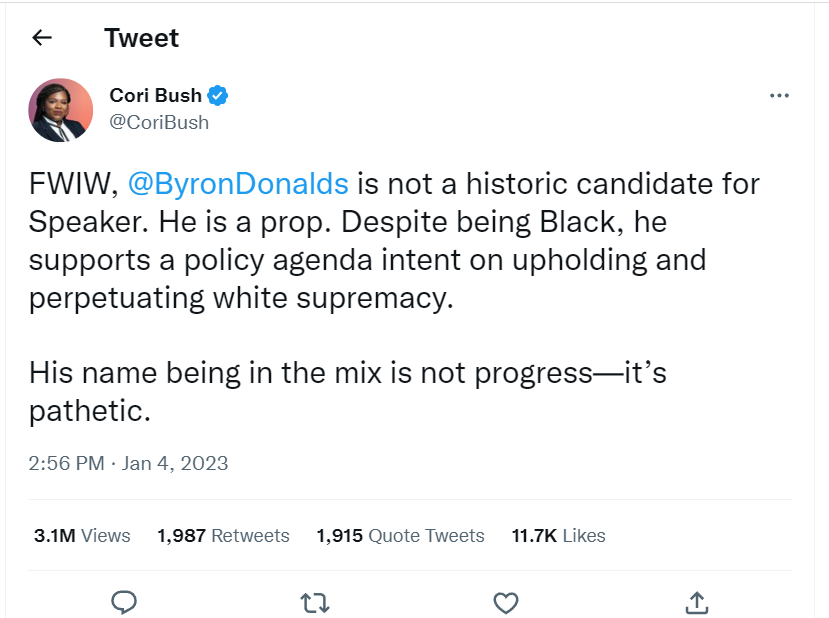 Vernon Jones reacted and really showed how stupid Bush's comment really was, pointing out that the Democrat's choice for Speaker was also Black, but Bush wasn't calling him a prop: