It is early morning on Friday 13, 2023; the country is waking up to concerns of the promised day of rage by community organizers who have been clamoring around US universities, mostly promising to expand and continue the work of the terrorist group Hamas, after the group leader sent out a call for action against humanity.
New York City is embattled with chaotic concerns of invasion, with migrants from all over the world entering their space and bringing many foreign languages and cultures- to spill out into the streets of homelessness. The Mayor of the city, Eric Adams, is in a constant state of fear over hosing concerns and escalating crime.
So it is essential, in times like these, to notice where hope for mankind is persistent in the face of loneliness, fear, and insecurity. In the face of increasing brutal threats, according to observers– "over 4,000 New Yorkers were processing with the Blessed Sacrament last night in Manhattan after Mass with Fr. Mike Schmidt in St. Patrick's Cathedral." (Links to his Friday 13 Mass below)
Photographer Jeffrey Bruno captured some profound inspiration in New York City on Thursday night and shared them in a TWEET: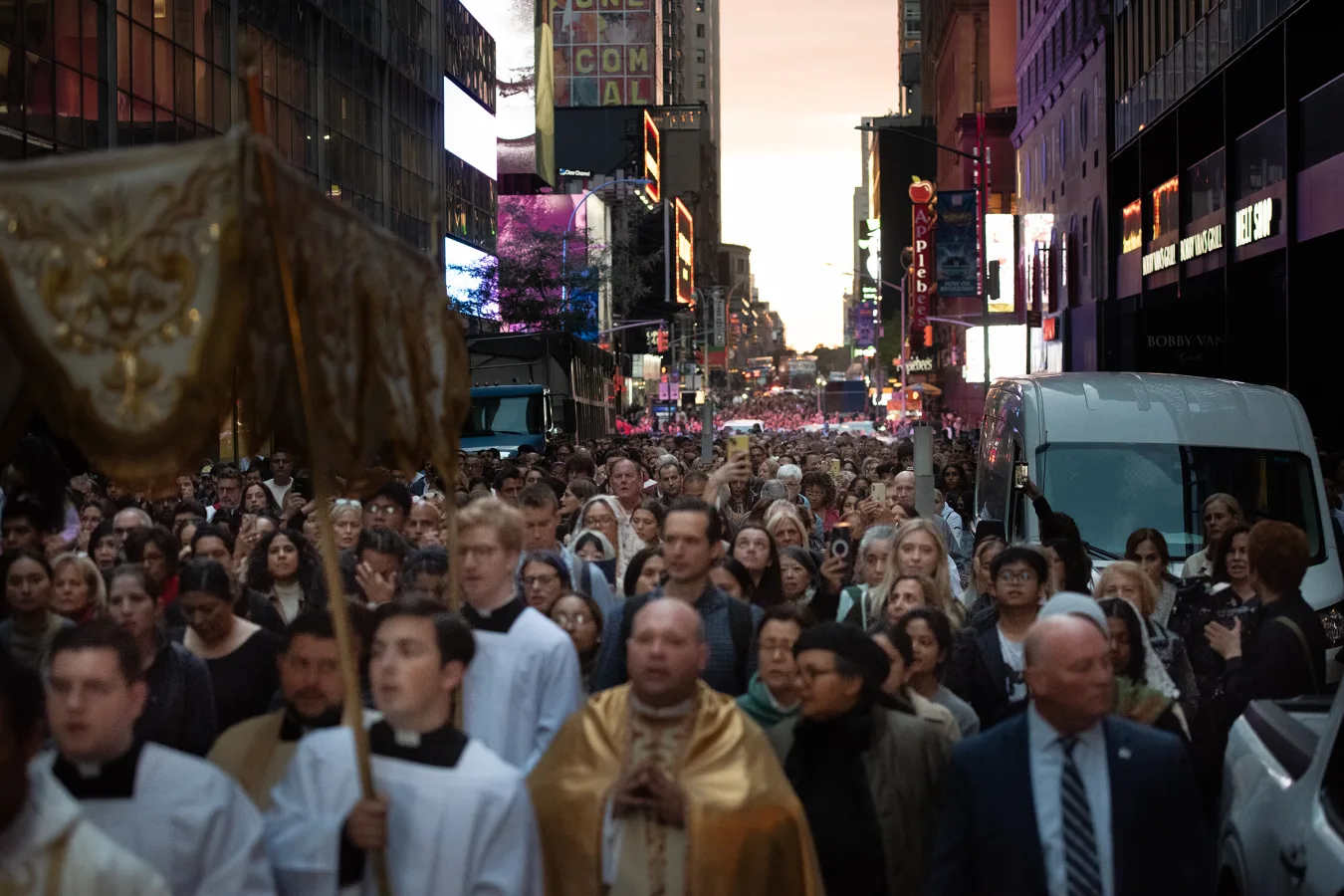 Catholic News Agency reported the details of the event:
"A procession bringing Jesus in the Eucharist through the heart of the largest city in the U.S. attracted hundreds of participants on Tuesday evening.
Participants marched reverently as the Body of Christ, housed in a golden monstrance, was carried aloft through the busy streets of Manhattan, passing right in front of the storied Radio City Music Hall as some bystanders looked on with interest and others dropped to their knees."
What the people really need right now is a show of faith in humanity, and St. Patrcks turned out to the streets to take faith to the people of New York.
The Mass before the procession was in benefit of prayer for Isreal:
According to media reports from MEMRI there are some dark days ahead:
"On October 10, 2023, Hamas leader abroad Khaled Mash'al published an announcement calling on the entire Islamic ummah (nation) to join the jihad battle for Al-Aqsa Mosque and to provide economic aid to the Gaza Strip. He stressed that this call was addressed first and foremost to all the Arab countries closest to Israel, with an emphasis on Jordan.
Hamas political bureau member Husam Badran also published an announcement, on October 12, calling on all those with weapons in the West Bank, and even on all its residents, to join the war against Israel and to "make the ground burn under the feet of the [Jewish] settlers." Badran stressed that the West Bank is the main arena from which Hamas anticipates aid, before it requests it from other elements – hinting at Hizbullah and the other terror elements in the pro-Iran axis.
These statements are a continuation of Hamas's October 10 announcement calling on the Palestinians, Israel's Arabs, and the Arab and Islamic nation to mount a widescale uprising and to advance en masse towards the borders of Israel on Friday, October 13 (see MEMRI Special Dispatch No. 10849, Hamas Declares Friday, October 13, As General Mobilization Day For 'Al-Aqsa Flood Operation,' Urges West Bank, Jerusalem Palestinians To Join Massive Rallies And Confront Israeli Soldiers, October 10, 2023)."
CNN reported early Friday morning, "Protests are erupting around the world as supporters of both pro-Israeli and pro-Palestinian movements gather outside embassies, government buildings and college campuses. In recent days, many of the world's most recognizable landmarks have also been illuminated in the blue and white colors of Israel's flag as a show of solidarity."
Hillel Fuld, a public speaker, had some commentary that makes sense about what these conflicts are really about in a recent TWEET:
"Like I keep saying, this isn't Arabs against Jews or Israelis against Palestinians. This is radical Islam against the rest of the world!"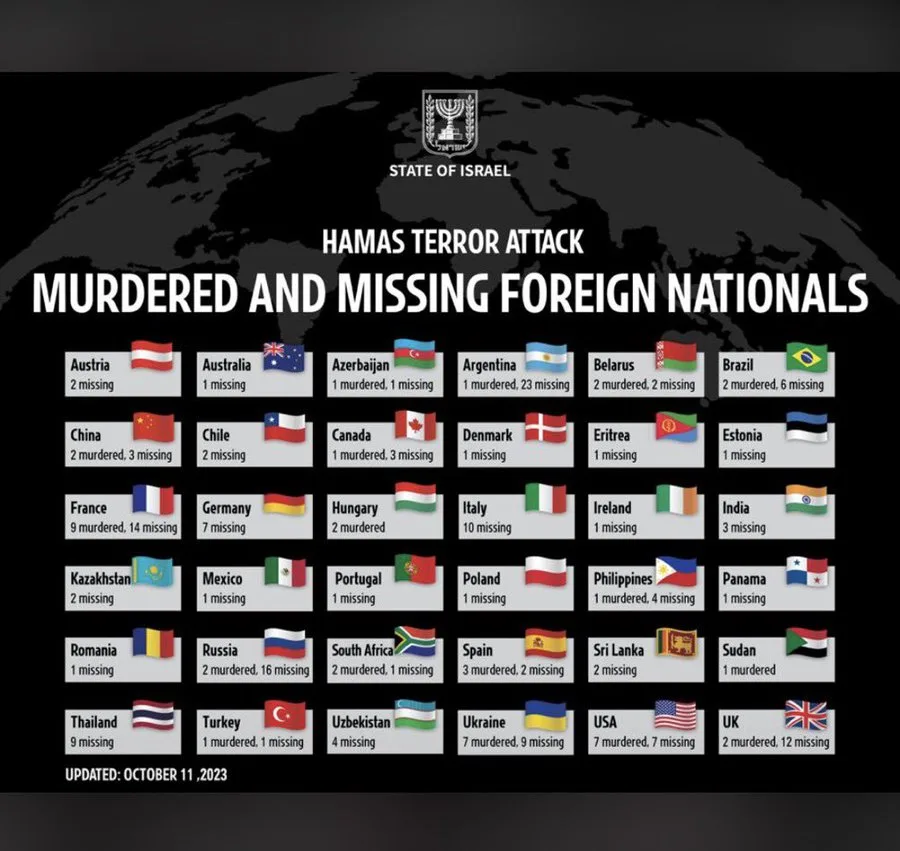 So we know the suffering is being elevated today on Friday the 13.
The spiritual path chosen by Hamas is questionable; However, they claim to be a sect of Islam; the group's focus is political control over other Muslims, Hindus, Christians, and Jews all over the world.
Last week, as most of the world knows, Hamas and their political allies orchestrated a sadist and vicious attack on Israel, which enflamed their region with retaliatory attacks on the people who dwell in the Gaza Strip. All week, tension has been rising around the world as a result, leaving people fearful and insecure about their future.
However, fear did not prevent a faithful group of Catholics from having their third annual display of faith in the streets of New York.
"Friends, helping to organize the @NapaInstitute Eucharistic procession has been a tremendously blessed experience the last three years. We went from 100 people to 500 people to 5000 people in three years," Father Micahel Duffy reported in a TWEET, adding:
"We brought Jesus Christ to the people of New York City and boy did He leave an impression. My heart was exploding at the sight of a full cathedral and packed streets. We might have slowed down the evening commute for a few minutes but to have Our Blessed Lord in the midst of the busiest city of the world was certainly worth it. A special thank you to all who came and prayed and walked with us. Next year will be even bigger!"
FOOTAGE OF PROCESSION FROM THURSDAY NIGHT
MASS FROM ST. PATRICKS:
More of our coverage of the year-long observance of the Eucharist: