Radical far-left Democrat US Rep. Ilhan Omar is running for re-election in the battle-torn state of Minnesota. So it is the perfect time for some good old-fashioned fear-mongering to turn the voters out, and that is just what one citizen journalist is claiming is unfolding.
Crime in the state is rising out of control, and the Congresswoman often is heard claiming to be the most extraordinary victim of the United States after being given citizenship and elevated to an elite Congresswoman. She often uses her platform with the media to perpetuate her victimization of going from dirt poor refugee to wealthy DC insider.
And some people in her district have had enough of her drama. Here is the story of one such resident who exposed Omar's lies about a recent fire.
This is a police photo of the area that was burned in Omar's district; according to Omar, there were 100 people in this "Mosque" which was recently destroyed: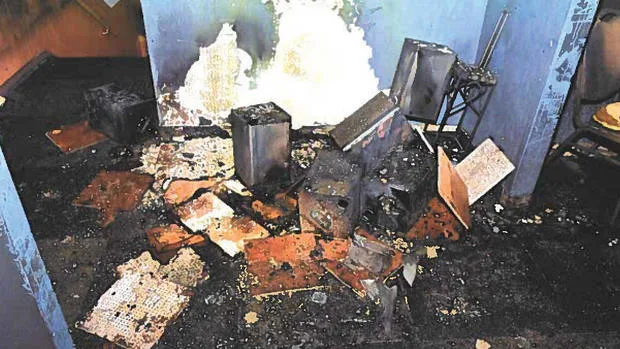 After Omar made a tweet pushing Islamophobia in her district and mourning the fire to the above 'Mosque", one local man set out to get the record right and slammed the Congresswoman for misleading the public and for not being up to the standard of a proper US civil servant:
So Frontline investigated and called him up to get more of the story.
"Previously, this burned area had been a small garage; there may have been some squatters in there, according to people in the area who would know," the man in the video told Frontline America and added:
"I saw Omar's post, and I knew it was a lie because I am familiar with the area, and I knew it was not the mosque building, and there was no damage, as she described in her post. As a citizen, I wanted people to see the citizens here are being manipulated; she should have a higher standard as a leader- and this community has fallen with the increase in crime. Lake Street is a sanctuary from crime, and the State police know this area," the source told me, saying that he had been a resident of the area for 6-7 years.
In the video, the man shows that no damage has been done to the actual church building where the Islamic Mosque is held.
"From following her posts, I think she is trying to push Islamophobia that does not exist. We go into the Muslim Mall in the area and interact with the Muslims, and there is not problems. I think she wants to play the victim card, and it needs to be revoked. This is a little tiny garage- it has nothing to do with the Mosque. I thought she would delete her post because it seems so wrong," he said.
"Mercy Center Mosque Bloomington AVE- used to be City View Church- the building that burned down is across the parking lot, and she makes it sound like there were 100 people inside that little tiny garage, which is wrong," he added.
Her post:
Here is what the local media is saying:
"Muslim leaders are asking for information on a fire at a Minneapolis mosque.
It happened Wednesday at the Mercy Islamic Center on the 2600 block of Bloomington Avenue, which was set on fire in April. Jackie Little was charged in connection to that fire, and a fire set a day earlier at another south Minneapolis mosque.
CAIR-Minnesota says the fire destroyed Mercy's garage, along with two nearby garages. It also caused extensive damage to a nearby home. CAIR is asking authorities to investigate a possible biased motive for the fires.
The cause is still being investigated. Anyone with information is asked to call Minneapolis police."
Sounds like Islamophobia is going to be Omar's platform for 2024.
PLEASE CONSIDER MAKING A DONATION, VISITING OUR STOREFRONT, AND FOLLOW US ON SOCIAL MEDIA
If you want to support more work like this, please consider donating or visiting our sponsors, like My Pillow.com- use code: Frontline America, and following Bergquam on social media: GETTR, TWITTER, TRUTH SOCIAL, RUMBLE, and Real America's Voice.
Please visit Patriot Supply and our other sponsors: