Ben Bergquam is in the streets of DC today ahead of the much-anticipated march to protest on behalf of Hamas.
Here is Bergquam's report with Majorie Taylor Green:
Reported at 4:30 by Fox News: "BREAKING: 3 people are now charged with assaulting a police officer at the US Capitol. The 3 Pro-Palestinian demonstrators will be charged with illegally protesting inside a house office building: Capitol Police."
Jewish Voice for Peace Demonstrators being removed:
More arrests:
Reported at 4:00: BREAKING: Pro-Palestine insurrectionists have now turned violent inside and outside of US Capitol buildings following Rep. Rashida Tlaib's rally.
Reported at 3:00PM by Capitol Police:
"A group of protesters are demonstrating inside the Cannon Rotunda. Demonstrations are not allowed inside Congressional Buildings. We warned the protestors to stop demonstrating and when they did not comply we began arresting them."
Tlaib inciting a crowd:
Reports from eyewitnesses say the building had been breached: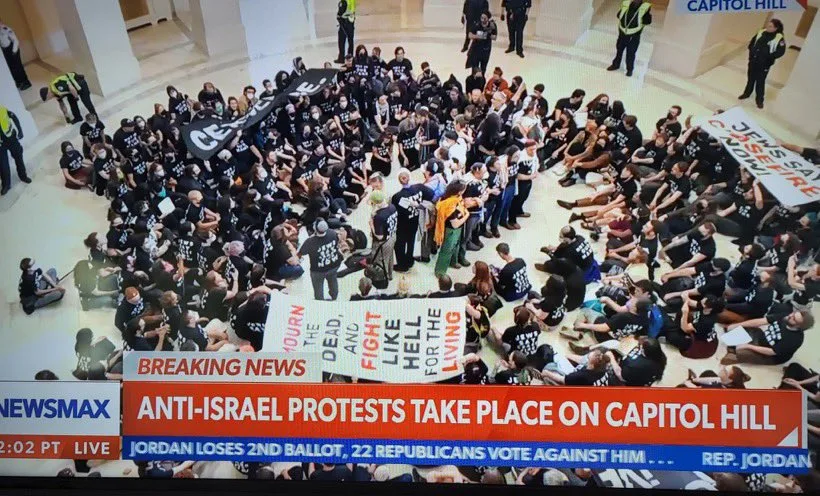 Hours before US Rep. Marjorie Taylor Greene (R-GA) posted footage of a massive group of protests yelling and chanting inside the Cannon Building Rotunda, Bergquam posted about the confusion at the US Capitol on a historic day of voting for US Speaker of the House, and about the precautions being taken for a massive protest on the grounds.
One reporter said that Trump supporters are not allowed to gather in the nation's capitol, but pro-terrorist organizations can take over the building.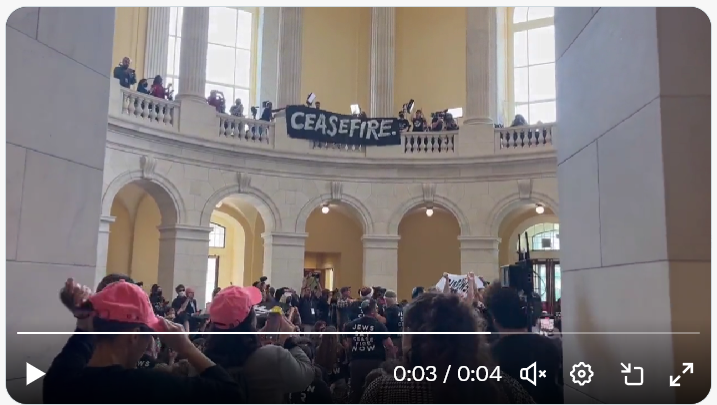 Here is Bergquam's reporting:
Here is MTG's Post describing what she sees as an insurrection:
More live reporting:
Reports on Arrests:
Rep Reports Vandalism:
Numerous arrests were made:
Rep. Reports people are chanting "From the River to the Sea" and describing the scene as "absolutely insane," saying the protests are "calling for the extermination of the Jewish people."
Previous footage from demonstrations in DC :
We will be updating this article as more information becomes available.
Livestream: