John Sabal, a disabled Navy Veteran turned Citizen Journalist, was scheduled to appear on the Tucker Carlson Show to talk about his epic battle with the Anti-Defamation League (ADL) over charges that the leftist group is misrepresenting him, his work and his activism on their website.
The ADL claims that Sabal is an "extreminist", and the group pegged him as such. The ADL is somehow important enough to be elevated and prioritized in Google search engine results, giving their claims some sort of credibility
The search positioning alone can cause hardship for targets of the ADL.
And here is a KEY POINT: Where are Sabal's Due Process rights?
"No State shall make or enforce any law which shall abridge the privileges or immunities of citizens of the United States; nor shall any State deprive any person of life, liberty, or property, without due process of law; nor deny to any person within its jurisdiction the equal protection of the laws. See Amdt14. S1."
The ADL appears to be above Constitutional rights. Tucker Carlson's team was interested in that story. Now you can find out why.
HERE IS SABAL'S STORY:
Sabal is on Truth Social and on Twitter; here is his Give, Send, Go, with more details about his dramatic battle with the corrupt ADL: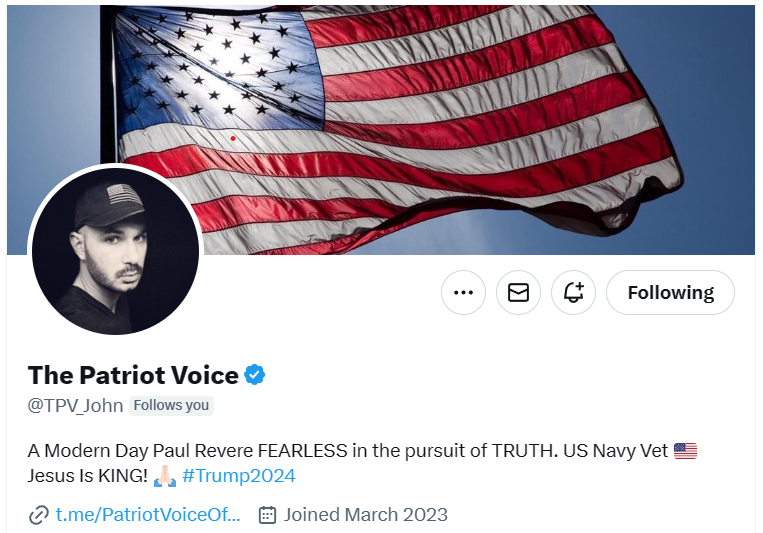 On top of the nuisance of defamation, the ADL could also be endangering Sabal's safety and his very life, considering how the violent left has demonstrated their hatred of Conservatives who are labeled 'extremists' already; being labeled an extremist by the ADL is just more justification for attacks.
From a simple Google search, it is easy to see that the ADL has framed a narrative around Sabal:
The first option that appears on a Google search for the name John Sabal, which includes the Patriot Voice, is the link to the ADL Glossary of Extremism and his name:

Here is where that leads, ADL Link TO JOHN SABAL: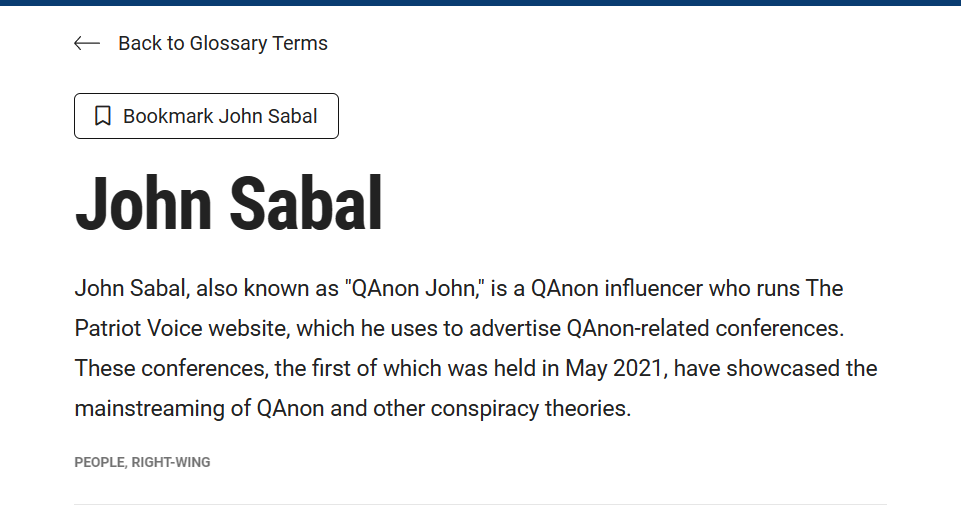 One of Sabal's top concerns over the apparent defamation conflicts- with this ADL entanglement- is that Jonathan A. Greenblatt, the ADL CEO, also called Sabal out by name to the US House of Representatives as a dangerous extremist.
That could cause a lot of problems for Sabal, with fears of being put on a national list and denied things like banking opportunities, as we have seen happen with influencers like Mike Lindell and even Gen. Mike Flynn.
The implications could be drastic for Sabal, considering the weaponization of the Government and the way the intelligence community has been highly aggressive with innocent Americans who find themselves on a terror watchlist, even as they have been placed there by a nonprofit, that has questionable authority and privileges to do so.
How a nonprofit group like the ADL has power over Americans to put their names on such lists is a growing concern, so the topic is fascinating to many Americans.
It is a menacing story Carlson's audiences would relate to, however, Sabal never got to appear on the one-time top-rated Conservative Fox News show- because Tucker Carlson was removed from the airwaves on Monday.
Sabal is the Tucker guest we never got to see.
Sabal, who posts as "The Patriot Voice," identified himself as the would-be guest on Tucker Carlson that fateful night and posted an exchange showing an email confirmation exchange he had with Carlson's producers that he would appear to talk about his situation and that post- alone- went viral.
Tucker's producer was excited to have Sabal go on air to tell his story, likely because they had been tracking the ADL already and the weaponization of nonprofits and Non-Government Organizations (NGOs), who operate 'at will' and have no government oversight.
And yet they influence things like who is considered a "domestic terrorist" for being too "extreme".
Many people would like to know what the criteria are exactly for the ADL to make a determination of extremism in the first place.
And obviously, from the reaction to his tweet that night, with nearly one million interactions in 24 hours, there is a vast public appetite to hear the details of his story because the ADL has been terrorizing many other Americans, labeling them as "antisemites and extremists".
Here is Sabal's tweet that shows the details:
Just The News reported about the defamation suit and the situation last week as well, detailing Sabal's experience with the ADL, and discussing the potential lawsuit- one that could be coming their way if the ADL does not detract their attack on Sabal and remove his name from their site:
"The leader of a grassroots conservative organization is suing the Anti-Defamation League for defamation, alleging that the organization falsely connected him with antisemitism and extremist positions.
An attorney for John Sabal, who runs The Patriot Voice, demanded in a letter to ADL CEO Jonathan Greenblatt that the organization retract various statements and publications it had made about Sabal and compensate him for damages or face legal action.
"My client wishes to resolve this matter amicably and without litigation," wrote attorney Steven Biss. "If you refuse to [meet his terms] within 30 days of the date of this letter, however, he intends to take appropriate legal action to protect his rights and interests."
Just the News also reported:
"Biss included a draft complaint against the ADL, which he would file in the U.S. District Court for the Northern District of Texas should the ADL rebuff his client's demands.
That complaint demands $10,000,000 in compensatory and punitive damages. Among the ADL publications to which Sabal objected was his inclusion in the organization's "Glossary of Extremism." He further took exception to materials saying he has "been known to peddle antisemitic beliefs" which include the idea that Jews conduct the ritual sacrifice of Christian children."
The ADL appears to have authority from someone to just "speak things into existence," all by themselves, and declare someone guilty and in need of punishment, something which goes against American's due process rights.
This is really a story that Carlson's audience would have felt passionate about.
Coincidently the ADL was very happy that Carlson got canceled that night, and they celebrated; according to left-leaning Times of Israel reported the details:
"ADL hails Fox News for the long-sought ouster of Tucker Carlson US group's head says TV anchor, who was network's most-watched host, 'used his primetime show to spew antisemitic, racist, xenophobic and anti-LGBTQ hate to millions," The Times reported, adding:
"In a move that shocked many, Fox News announced on Monday that it had "parted ways" with Tucker Carlson, the US network's most-watched host, whose on-air embrace of white nationalist conspiracy theories had defined its editorial voice since 2017."
Fox News did not give a reason for Carlson's departure in its press release, which said that his last program aired Friday.
"Staffers were reportedly blindsided by the move, but it came shortly after Fox News paid nearly $800 million in a high-profile defamation settlement to Dominion Voting Systems, in part because of lies Carlson told his viewers about the company's role in the 2020 presidential election," the Times reported.
So it doesn't take a conspiracy theorist to see that a pattern is emerging here… we know people are not allowed to criticize the ADL or the charges of "antisemitism and extremism", and who you are not allowed to criticize – does control you.
This story is still developing; we will bring you more information as it becomes available.
PLEASE VISIT OUR SPONSORS TO HELP KEEP US ONLINE