After leaking details about a crazy lawsuit- that was obviously designed as a political smear- and rushed to their favorite media allies for dissemination, a story made media rounds and likley embarrassed the North Carolina Speaker of the House, Rep. Tim Moore, a little bit, and then fizzled out. It was announced Monday afternoon that the case was withdrawn by the man who filed the nonsense after just two weeks.
And it is interesting to see who used the media to smear a very troubled lawsuit around as if it had any merit.
Further, it was announced by the Wake Co. DA that there is no evidence that Moore did anything criminal, even after the gossip media speculated about such things for two weeks- rehashing the details of the case in a soviet style show trial.
Democrats and Never Trumpers made silly memes for 14 full days, with no proof of any wrong-doing on Moore's part, and then their childishness had to stop:
These are just more of the crazy details of the campaign trail in North Carolina, a state that is considered a 'swing' state by many pundits and consultants. Moore, a Republican, is considered to be a strong supporter of President Donald J. Trump and the Democrats have been hounding him for years because of his support.
And he is instrumental in securing a GOP superpower over the left.
The North Carolina GOP holds a Supermajority in the General Assembly by one seat. Moore was pegged by his opponents as being instrumental in negotiating with Democrat Rep. Tricia Cotham to switch sides, giving the Republican party the power to pass some very bold bills about healthcare, the Chinese Communist Party, public and Charter schools, and parents' rights- after years of being under the rule of radical far-left Governor, Roy Cooper, and his veto.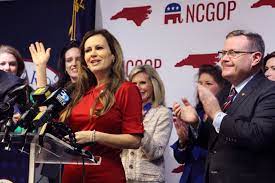 Some people believed the lawsuit smear hit was retaliation for helping the Republicans get Cooper on a leash and under control.
Some people saw the media smear unfolding to disgrace and defame Moore and cause him to stress from media attention, and hopefully, they thought- cause him to resign. Numerous political Pacs and smear rags, who exist to slip Never Trumpers into power, called for Moore to resign, revealing a deeply troubling pattern for politics in the Tar Heel state.
If Moore had resigned, it would have emboldened Cooper – who wants his Veto power back:
News of the lawsuit being withdrawn leaves the GOP intact to pass more bills.
The AP reported on more details of the nutty lawsuit:
Lassiter's lawsuit, which sought at least $200,000 in compensatory and punitive damages, claimed that Moore "willfully interfered in the marital relationship" between Lassiter and his wife, who leads an agency within the state courts system.
Moore, who is divorced, publicly acknowledged having a "casual" relationship with Jamie Liles Lassiter but said he believed it was appropriate because she was separated. He said other claims in the lawsuit were completely false and vowed to file a counterclaim.
Jamie Lassiter wasn't a defendant but called the lawsuit "outrageous and defamatory" and said her husband was "lashing out" at the end of their divorce proceedings.
Lassiter, a former Apex town council member and a current elected member of the little-known county soil and water conservation board, also alleged that Moore and another unidentified man conspired recently to install a camera outside Lassiter's suburban Raleigh home. Moore, who, like Lassiter, is Republican, said he hired no one and didn't know who the man was.
Wake County District Attorney Lorrin Freeman said separately Monday that "at this time, based on a review of the complaint filed in the civil action, there are not allegations that would give rise to a criminal investigation or prosecution."
Moore, a lawyer, has represented a region just west of Charlotte in the House for 20 years. He was elected speaker in 2015 and is now in his fifth two-year term at the post — a state record.
SO…
The crazy smear lawsuit is withdrawn just days after the US Supreme Court, led by "surender- monkey for leftists" John Roberts, destroyed a case that was brought by Moore, which made the state Democrat party anxious:
We covered the story here of the lawsuit against Moore after it went viral for the obviously scandalous aspect, and we noted that the lawsuit itself was a clown show: