The North Carolina Republican party re-elected their chairman, Michael Whatley, on Saturday after a hair-raising weekend of campaigning, according to delegates on the scene. Some delegates reported to Frontline America while trying to make sense of the chaos caused by supporters and campaigners of John Kane, who was running to replace Whatley.
National headline news from the event was that President Donald J. Trump spoke for the first time since the latest DOJ attack on him, in a speech that was an epic smackdown of his opponents:
Ben Bergquam was on scene with the Trump team to cover the event for Real America's Voice:
""Live in North Carolina with President Trump! Keep it up Lefties, you're only making Trump stronger and his base more committed to defeating you! #MakeAmericaGreatAgain#UltraMAGA#Trump2024 @RealAmVoice"
However, as our investigation goes- it is not just the lefties who are after Trump.
Reports from some of the Trump delegates were interesting.
'The Kane campaign had three days of very nice food and lots of bling for supporters at the convention, and his supporters were highly aggressive in trying to persuade us as delegates to vote for Kane. But they were also making people angry by being disruptive and screaming out of turn. The Parliamentarian had to demand they stop screaming and causing chaos numerous times after the vote didn't go their way. It was so frustrating.
The Kane side was demanding that there was something wrong with the election tabulation in their fake news before we even voted, and then some problems had to be fixed. I don't know if the Kane group sabotaged the voting app or not, but they could have. In the end, Kane lost badly. The numbers were embarrassing for Kane after everything his funders and supporters had done for so long to get party members to replace Whatley. Kane supporters have been on a reign of terror to replace Whalley for a long time, probably because Trump likes him so much. Leadership had to cut the fighting short after Whatley was announced the winner to go to the Trump dinner.
The rules were that there was no time left for the Vice Chair election, so the previous Vice Chair stood, and we adjourned the meeting to go to dinner with President Trump.
Before we could leave, there were Kane delegates screaming and throwing tantrums, talking about election problems, and it seemed like it was scripted. These same people had been at the NCGOP county conventions in numerous places before the state Convention threw the same fit over elections where their person didn't win. They keep making the same claims at all these places where they lose. It feels like the attacks on Whatley, on the voting ap, on the Trump-voting delegates and even our Lt. Gov. Mark Robinson, who the Kane voting delegates and campaign team refused to clap for, have been organized.
Not clapping for Robinson and making a big deal out of not supporting him was telling. Robinson is also very pro-Trump. It really felt like the people fighting were fighting because they didn't like Trump's endorsements," the NCGOP Delegate said.
Robinson, who spoke before Trump did, had a chance to speak with Bergquam from the event:
The state of North Carolina has gone to Trump twice under Whatley, and Robinson is a favored candidate for Governor in 2024. Robinson also is leading in the polling of Republicans:
We covered Robinson's announcement that he was running for Governor.
The actual convention vote happened after the news of Trump's latest endorsement of Whatley spread like wildfire across the convention floor.
Trump held the social media announcement of his endorsement until election day. However, most people understood that Trump would endorse Whatley.
Former Vice-Chairwoman, Michele Nix on her Facebook Page that Trump had, in fact, endorsed Whalty again for the position of State Chairman: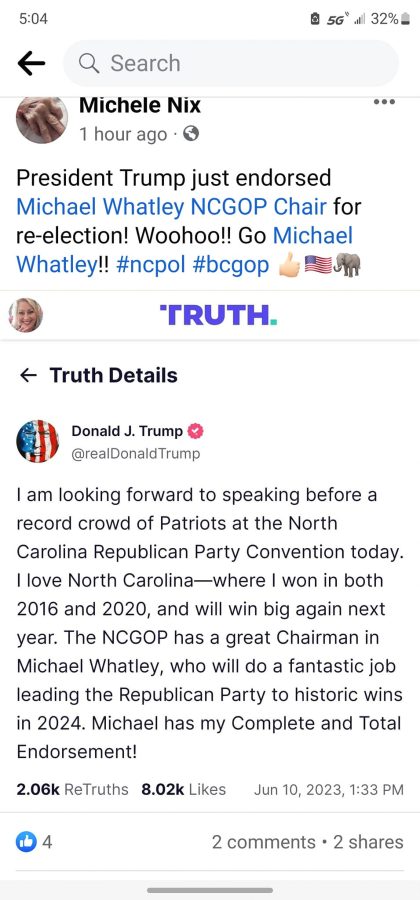 Nix, who served in party leadership in 2016 and has been a long-time supporter of Trump at the state level, was involved in numerous coalitions that are pro-Whatley.
Never Trumpers had started an online battle with Nix over the chairman and the vice-Chairman elections that raged on in very nasty and divisive ways from the side of the Never Trumpers over support of Whatley and Susan Mills as Vice Chair.
The Never Trumpers in North Carolina Republican party have a long history of trying to destroy Trump's massive popularity with voters, going back as far as 2015. Trump has spent a great deal of time in the state, which happens to be the birthplace of his daughter-in-law, Laura Trump, who grew up in NC and who attended NC State University.
One "Never Trumper' group known as 'We The People Events" has run many events highlighting the work of Seth Keshel, for example, accusing Whatley of being anti-Trump in elections and accusing him of not looking at election data.
In fact, the group appears to be funded by Never Trumper- and NCGOP Donor Jim Anthony, who has been active for two solid years with numerous somewhat fake 'activist groups' that he and his pals funded on the topics of Medical Freedom, Election Integrity, and Parents Issues, to gather up people, fill them with outrage, and to push out propaganda- using leftist tactics to discredit Whatley.
But, apparently, Whatley is so popular due to his close relationship with Trump, none of the Never Trumper tactics worked- it didn't seem to have any effect.
Even with all of that focus and concentration of effort focused on replacing party leaders, Kane came away with 39% of the delegates supporting him.
To show how out of touch with reality the Never Trumpers are, the group published an endorsement of Kane by Anthony in an email hit piece on Whatley the week before the convention.
We The People Events, which is also the "Grassroots Citizen's Government" calling Anthony a "party Super Donor" printing his letter in support of Kane, where he whined about not getting a "Return On Investment" under Whatley, sounding an awful lot like Anthony had sour grapes about not getting his way.
One focus of the Anthony-funded nonprofits has been for two years to be a collective cry to replace Republicans in the General Assembly, so when the state- instead- achieved a 'Supermajority" level in the November 2022 elections, bypassing Democrat Governor Roy Cooper, the Anthony Never Trumpers and that Alliance of his 'activist nonprofits' who are also associated with Jim Womack's Conservative Coalition, went into overdrive to attack Republican lawmakers, President Trump and also Mark Robinson.
It looks like a MAGA Alliance is being attacked by a Never Trumper Alliance.
Here is what was so telling about how badly the Never Trumpers were going to lose:
They also published a childish email claiming that Whatley and his team lied about being endorsed by Trump.
Any political watcher should have known it was pretty obvious that Trump would endorse Whatley.
We wrote about the long history of Trump's endorsements of Whatley recently.
The We The People Events claim about Whatley lying was embarrassing- because Trump has endorsed Whatley many times. The sort of 'crying over spilled milk' kind of message was an early week indicator that Kane and his people were in a panic because the lack of sophistication in that claim was just junior league.
And Trump is playing in the Big League. Check out this crazy email letter: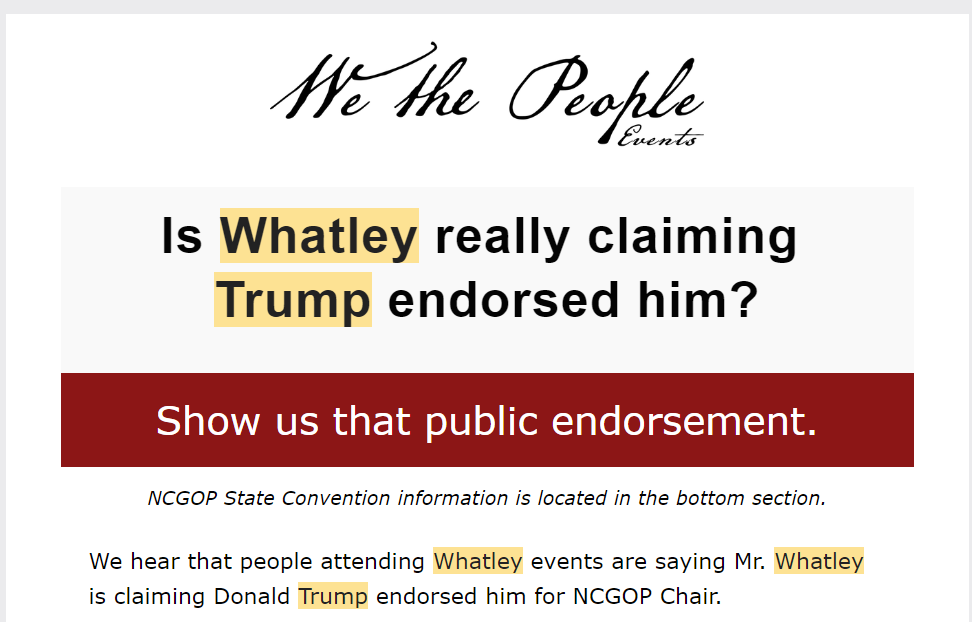 That silly and crazy email came on the heels of close to 8 years of upheaval and infighting at the state party level over the candidacies of Trump, with many 'Never Trumpers' adopting vicious leftist tactics of control and domination over MAGA voters and Deplorable activists.
And they lost again. Look at this child-like level of this attack on Trump's endorsed candidate for party chair:
Numerous delegates have reported that John Kane is talking about fighting the election, but no one is quite clear what that means exactly.
What their next moves are going to be, to try to "get Trump" and seize the party power will be interesting to watch. Giving up their hated and working for the betterment of the state of North Carolina and the nation would be welcomed. Time will tell what they do.