On Thursday, after the announcement that President Donald J. Trump would be indicted again, the Guardian reported on Trump's reaction to the news and highlighted posts of Trump's where he wrote that Joe Biden's DOJ attempted to bribe the attorney for Trump's valet driver- in exchange for testimony against Donald Trump, a presidential candidate for 2024.
If true, it is another point of data about how out of control the Biden administration is and how far they will go to steal the 2024 election away from Trump, who polls show is the leading presidential candidate.
But it is not just the Democrats who hate Trump- it is the Never Trumper RINOS too.
The timing of another indictment of Trump is noteworthy because Trump has a busy schedule of campaigning in North Carolina which is an essential pro-Trump state at a time when the party is choosing its future leadership.
According to one poll, Trump leads on all issues about which Republican would do a better job as President:
The news came on Thursday that the government made another big move against Trump to try to stop his campaign's momentum.
"Trump Indicted. Trump Is Charged in Classified Documents Inquiry," the New York Times reported, adding:
"The seven counts against the former President include conspiracy to obstruct, willful retention of documents, and false statements, according to people familiar with the indictment. He said he would surrender to the authorities on Tuesday."
Here is more from the New York Times:
"Trump is the first former president in U.S. history to face federal charges."
The Justice Department on Thursday took the legally and politically momentous step of lodging federal criminal charges against former President Donald J. Trump, accusing him of mishandling classified documents he kept upon leaving office and then obstructing the government's efforts to reclaim them.
Mr. Trump confirmed on his social media platform that he had been indicted. The charges against him include willfully retaining national defense secrets in violation of the Espionage Act, making false statements, and a conspiracy to obstruct justice, according to two people familiar with the matter.
Trump was quite vocal about what has unfolded, saying that the only criminal act in this entire case is the actions by the Biden DOJ!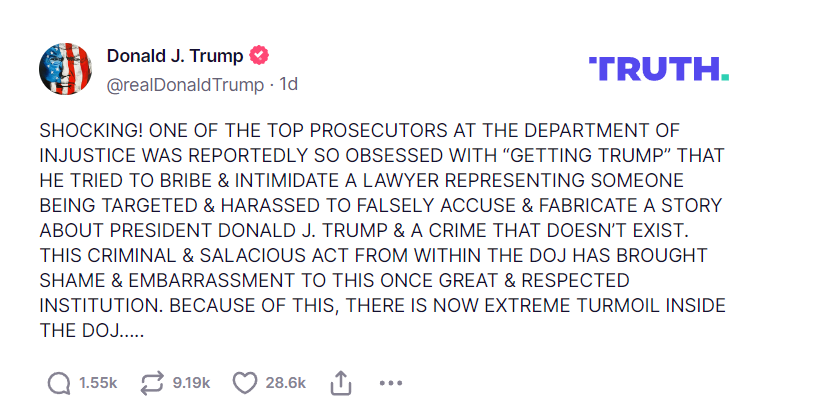 And

Here is more from the Guardian about the DOJ's moves:
About that timing:
Anti-Trump, Never Trumpers in the NCGOP – who are running a candidate for chairman named John Kane, have been using a variety of dirty nasty tactics on voters, activists, and lawmakers, attempting to get control of the state's Republican lawmakers, after years of being under Democrat Roy Cooper's control.
In November, voters put in more Republicans to the statehouse, and one Democrat switched sides- and so that the GOP would now have a supermajority.
But the Never Trumper RINOS have been outraged at the Republican lawmakers attempting to discredit them and harass Republican members- in all ways they can.
Now Trump gets indicted right before he is to speak in the state. That is very interesting because North Carolina is an important state to Trump.
Trump is scheduled to speak at the North Carolina Republican convention this weekend, where the state leadership will be decided in an epic statewide battle for control. Trump has endorsed Michael Whatley to remain as party chairman, who he also endorsed for a position with the RNC.
The Epoch Times wrote about Trump's prior endorsement of Whatley at a prior convention when he also endorsed Conservative US Rep Tedd Budd for Senate, saying:
"Former President Donald Trump is going to speak at the North Carolina Republican Party's 2021 State Convention on June 5, the state GOP announced Monday.
"President Trump won North Carolina in 2016 by promising to put America First, and he won North Carolina in 2020 by keeping that promise," said Whatley. "President Trump delivered real results for North Carolina by rebuilding the military, standing strong against China, and unleashing the American Economy.
Trump won North Carolina in 2016 and 2020, both with a slim margin. As a swing state, North Carolina is essential for the Republican Party to retake Congress."
And now Biden may be getting his revenge and trying to keep Trump from running in 2024. The "Get Trump" by any means necessary movement continues.