24 year old Damar Hamlin was taken to the hospital in critical condition on Monday night after collapsing on the football field; some eyewitnesses said he had undergone 9 minutes of CPR after making a tackle and then falling to the ground. After he was taken from the field the game was postponed and then canceled.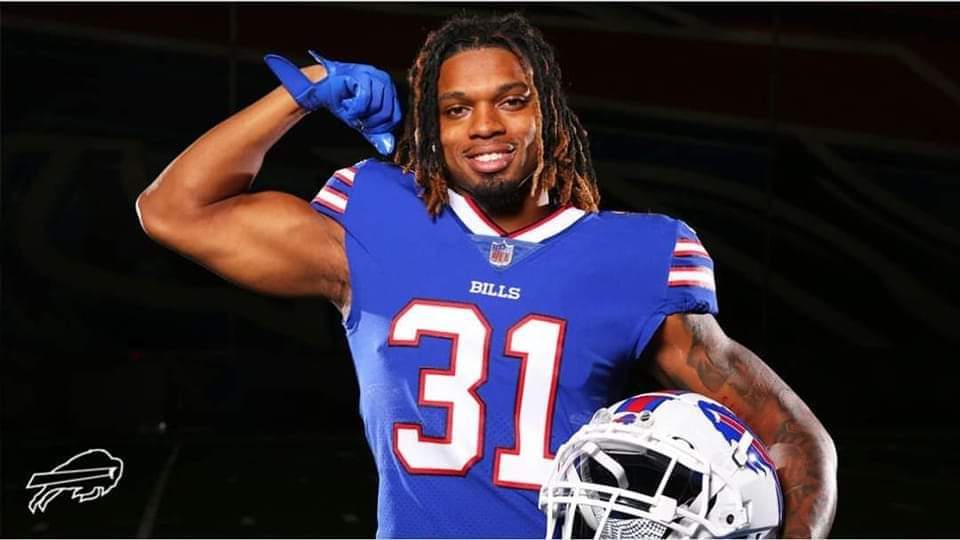 Before the game he looked happy and healthy :
The Week 17 finale between the Cincinnati Bengals and Buffalo Bills on Monday night has been postponed, the NFL announced.
The league's decision came after Bills safety Damar Hamlin collapsed on the field at the 5:58 mark of the first quarter. The play came on a second-and-3 play from the Cincinnati 39-yard line. Bengals receiver Tee Higgins caught a pass from Joe Burrow for 13 yards and appeared to have his hemet hit Hamlin in the chest. Hamlin initially was able to get on his feet, but then fell to the ground and required medical attention. The 24-year-old was reportedly given CPR on the field before ultimately being driven away in an ambulance, where he was reportedly accompanied by his family.
Per the NFL statement, Hamlin was transported to a local hospital and is in critical condition.
The delay lasted well over 50 minutes and saw both clubs depart for their respective locker rooms. Head coaches Sean McDermott and Zac Taylor were seen outside of the locker rooms talking along with various players from both clubs. Not too long after their exchange, word came down from the league that this game was set to be postponed.
"Tonight's Buffalo Bills-Cincinnati Bengals game has been postponed after Buffalo Bills' Damar Hamlin collapsed, NFL Commissioner Roger Goodell announced," the league said in a statement. "Hamlin received immediate medical attention on the field by team and independent medical staff and local paramedics. He was then transported to a local hospital where he is in critical condition. Our thoughts are with Damar and the Buffalo Bills. We will provide more information as it becomes available.The NFL has been in constant communication with the NFL Players Association which is in agreement with postponing the game."
Coming into Monday night, this game was billed as a heavyweight matchup between two AFC contenders with the No. 1 seed hanging in the balance. Cincinnati was able to go on a 75-yard touchdown drive on its opening possession, while Buffalo managed a field goal before the game ultimately was paused and subsequently suspended following the Hamlin injury.
BREAKING: Buffalo Bills Damar Hamlin has just arrived at the University of Cincinnati Medical Center#Cincinnati | #OH Buffalo Bills Damar Hamlin has just arrived at UCMC center after he passes out after making a tackle in the Bills vs Bengals game
There was some online speculation was he suffered cardiac arrest:
According to news reports:
Fans are very shaken.
The game was ultimately canceled.
Fans sent prayers and posted positive thoughts about Damar online:
We will update this article as we get more: