As Ben Bergquam was making his way to his next destination this week, after being on location in the Darrien Gap, he saw numerous people who were not speaking, in Spanish and who were under similar-looking red cross blankets. Most were sleeping.
But what is the deal with the Red Cross blankets?
It is fair to guess that the people Ben saw in the airport- were in the United States under the same illegal conditions under which many migrants he has witnessed crossing the border when he has been on location.
"I just got to Pheonix and I see people filling up the airport, under their red cross blankets, and sleeping in airports and getting shipped around the country. This airport is in Pheonix- and this is what America is becoming," Bergquam said.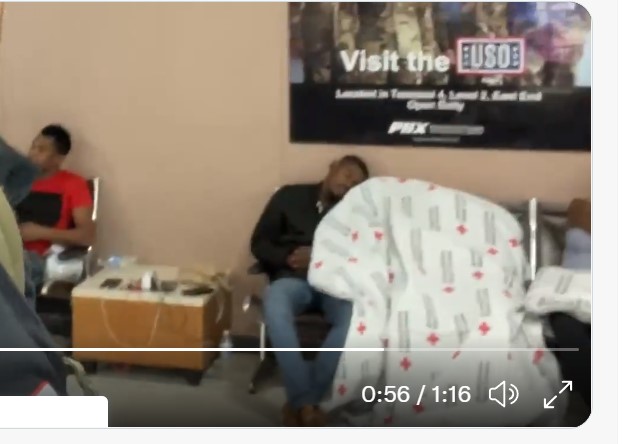 Those blankets Bergquam sees, are exactly like Red Cross Disaster relief Blankets found online for between $18.00 and $20.00: https://www.redcross.org/donate/holiday-donations-blankets.html/
Remember: The American National Red Cross is registered as a 501(c)(3) non-profit organization. Contributions to the American National Red Cross are tax-deductible to the extent permitted by law. The Red Cross' tax identification number is 53-0196605.
So they are a charity and not under any FOIA requirements or government oversight- but why is the Red Cross's reaction to this invasion like it being caused by a disaster?
"We can't survive three more years of this," Berquam said.
Investigating the Red Cross blankets tells us some things about who is paying and who is profiting from this invasion and what the Democrats are saying about the necessity about this mass migration, to sell it to their gullible supporters.
American Red Cross Blankets are manufactured in New Delhi India according to this website.
"Our American Red Cross Blankets, also popularly called ARC blankets, stand high and alone out of all the blankets manufactured globally. We have been manufacturing for years and doing exclusive branding for ARC, and suggesting new qualities from time to time. This blanket quality is considered the most superior one manufactured by us till date for refugee relief."
"Relief", like being displaced in war and natural disasters? So Americans are responsible for the world's problems now. Bidens built that. The problems of the third world are never-ending.
Ben is right-America has to do something.