This is a great American story of success. After pushing back on the Fake News industry, which tried to trash participants and harm Dave Portnoy's Pizza event, all of his opponents missed out on a great story about the spirit of New Yorkers- and they missed out on fresh hot Pizza! What could be worse?
NEW YORK PARTIED IN THE POURING RAIN
AND HAD A GREAT TIME WITH MUSICAL ARTISTS
ONE BITE FEST: "5000 people in the pouring rain. Thank you to every pizza place that participated. Thank you to every sponsor who was part of it. Thank you to every person who showed up. Despite the rain, today was the most incredible pizza event of all time. Pizza is love," Portnoy reported on his social media.
We covered the story of Portnoy's battle with the Washington Post up until the actual #OnebitePizza event earlier on Saturday:
And here are the reports that his event was a huge success:
GRIPPO PETER REPORTED: "From Brooklyn Square was getting calls all week harassing him for participating in
@OneBiteFest, he started calling them back and giving them a taste of their own medicine."
SALLY'S PIZZA
AL SANTILLIOS PIZZA
To name a few of the participants.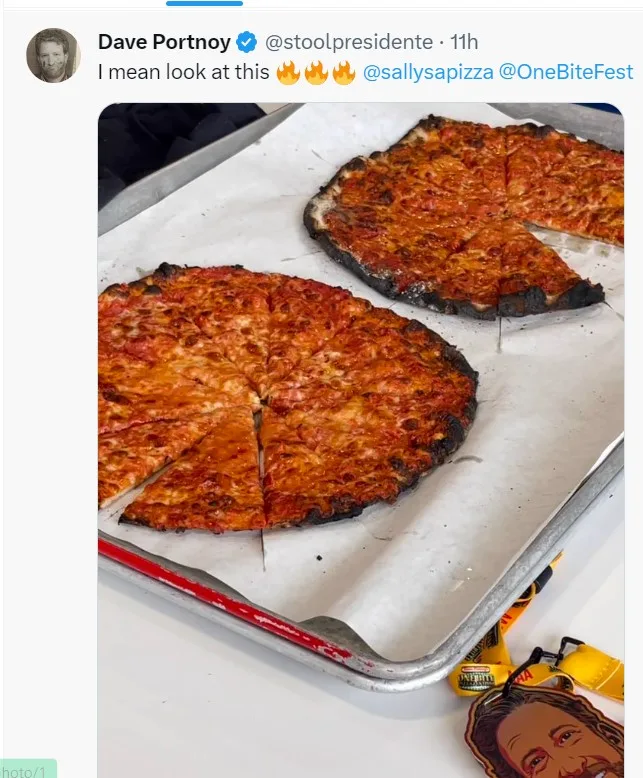 Check out Dave Portnoy's Twitter feed for a lot more footage.