First of all, thank God for Dave Portnoy, who is almost single-handedly trashing the revenge-fueled- fake news industry by spanking the corporate media this week in a very public display of his refusal to be emasculated.
DISCLAIMER: This article contains the author's heated opinion and will display her longtime annoyance with the corrupt feminist movement and fake news industry. No one else should be held responsible for what you are about to read if it triggers you.
FEMINIST MOVEMENT IS A SCOURGE ON SOCIETY
Portnoy, who had been brilliantly marketing a "one bite pizza contest," has also been made a fool out of the brazen Washington Post. The crazy newsgroup is hellbent on using their platform to try to destroy Portnoy's business- and they have targeted his life, too, because he refuses to obey them and submit to their demands of institutional female dominance.
Who can be so hateful about a pizza-eating party? Feminists can and do and are. They even call a refusal to obey them: 'sexual misconduct' in a story about eating pizza.
Yep. The WaPo claimed there was a history of 'sexual misconduct' here – and they used their platform, pretending to be news- to broadcast these lies. Even I, as a female journalist, have faced the same play by a leftist-feminist-female – who doesn't like my reporting, tried the same thing on me and even dragged me through court, posting all over social media and taking it to the courts, claiming I was gay and had 'hit on her' when I am not even close to a lesbian. (She was finally dismissed with prejudice, by the way).
FLAG ON THE PLAY! THAT IS A VIOLATION! NO! JUST SAY NO!
The ONLY solution to deal with these power-grabbing women is to go on offense. That is what I did too. That is what Portnoy did.
This is his story- it is beautiful-Check it out:
FRIDAY- WAPO TRIES TO DESTROY PIZZA FESTIVAL
Friday evening, having played phone tag (getting the run around) with a reporter from the WAPO, who Portnoy knew was going to hit piece on his event, Portnoy released the following statement about the battle between himself and the Washington Compost, declaring the death of honest and fair journalism in America: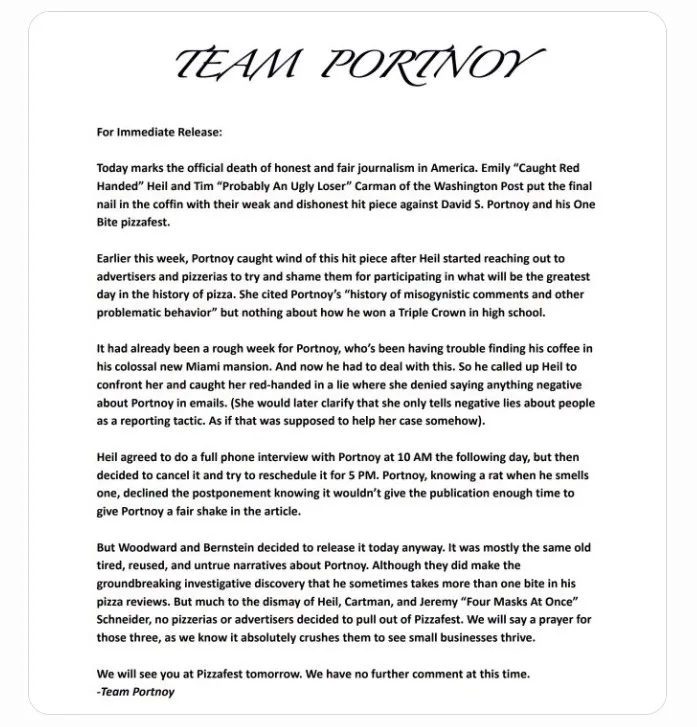 And Portnoy posted a phone conversation between himself and a WAPO propagandist who was targeting him for destruction:
With the iconic "Don't Give Up The Ship" Flag (My personal favorite, too) behind him, Portnoy posted his video for the world to see the deceitful behavior of the Washington Post where he says he "went on offense" as they attempted to attack him and set him up for devastating PR and accuse him of crimes.
CHECK IT OUT ON PORTNOY'S SOCIAL MEDIA FOR CLIP- THIS IS AWESOME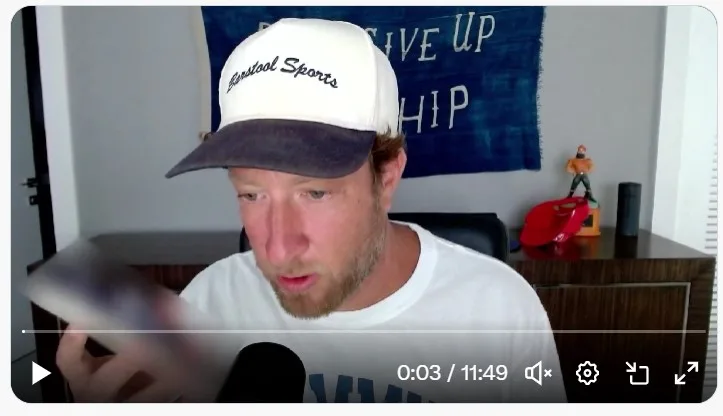 SATURDAY- DAY OF THE PIZZA FESTIVAL
By Saturday morning, X(Formerly Twitter) had gotten into the dispute and had pushed back on the news organization. As Portnoy reported- it is not so funny when the rabbit has the gun- indeed: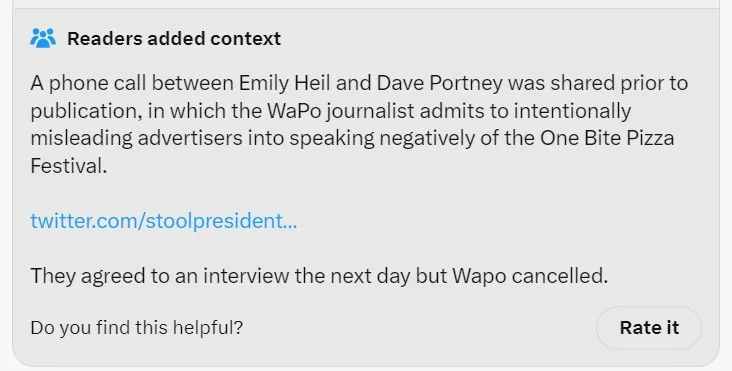 HERE IS PORTNOY'S LATEST SMACKDOWN ON X (Formerly Twitter).
The WAPO published their hit piece anyway: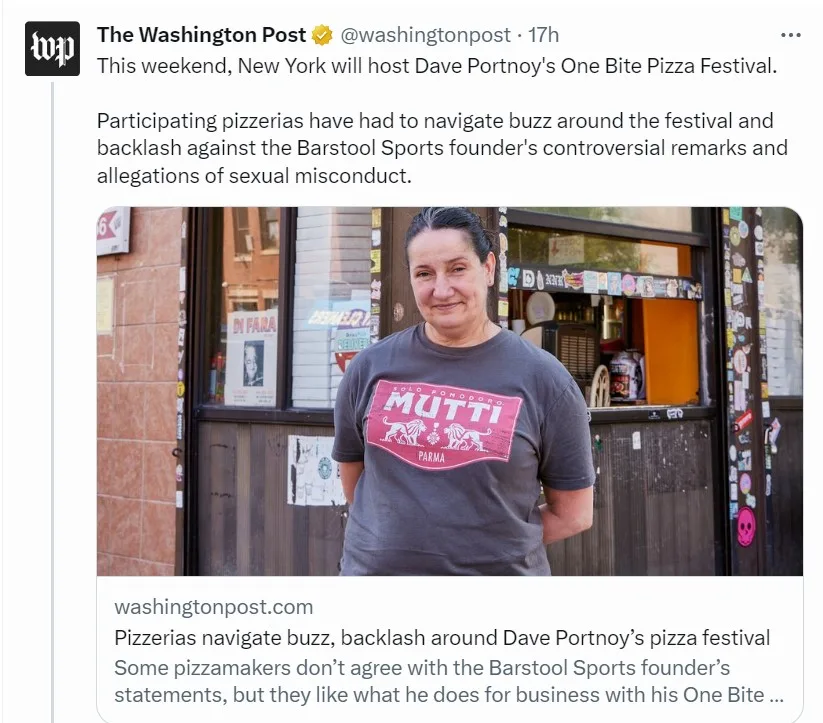 THE PIZZA PARTY GOES ON
HERE IS PORTNOY'S UPDATE ABOUT THE FESTIVAL- ON SATURDAY MORNING
I have mad respect for Portnoy. The Washinton Post has trashed me as well, along with Forbes and others.. so I applaud Portnoy for performing this service for American men and women.
I have a tiny little bit of history with Portnoy on this topic. I am glad to see that he took my advice and stood up! 🙂
The Alpha of the Alpha Males:
It has been so long in America since we have seen someone brave enough to slay the feminist movement. Thanks Dave Portnoy!
And welcome to the war.
Here is some of our past reporting on the corrupt use of media to trash people. This was when NPR targeted Ben Bergquam, from Real America's Voice:
And our follow-up: