Jacqueline Breger, A Farmers Insurance Agent in Scottsdale, AZ gave what is likely to become some of the most bombastic and shocking testimony in all of election integrity history as she described a multi-billion dollar crime spree around the country, including in her state, which may have impacted the 2020 and 2022 elections, handing elections to people who didn't win those elections- and, like newly placed Governor- Democrat Katie Hobbs, 
Breger named Hobbs and her husband in allegations of laundering money in partnership with major drug cartels in the embattled border state that is seeing a massive increase in human and drug trafficking and smuggling.
"Laundered cash is used to bribe elected officials and their staff. To date, we have 10,000 falsified documents," Breger told a government panel who listened to her detailed testimony last week. 
One of the documents was a
list of people who were implicated by Breger's testimony and presented to the AZ legislators regarding partnership with cartel links through falsified
deeds
. That list has gotten increased scrutiny on social media over the last few days. 
Breger, in her testimony, described a series of activities to get people to put specific people into elected positions to further the activities of the drug cartels. 
The accusations Breger made was that the people named on the list had laundered drug cartel money from selling drugs, including fentanyl, to judges, lawyers, prosecutors, LEO, election officials,
Katie Hobbs
, state legislators, and Rumbeck services who ran the elections. 
"They have no integrity whatsoever," Breger told the panel. "We researched this from publically available information," she said, sounding like the information was right under everyone's nose. 
But she and her partner John Thaler of Harris/Thaler Law Firm figured it out on this own. 
Together they claim they have uncovered proof that the Sinaloa cartel (formerly led by El Chapo) bribes high-ranking officials in Arizona, including Katie Hobbs, Adrian Fontes, Kris Mayes, and others. 
Ben Bergquam, a correspondent for Real America's Voice and the host of Law and Border, who has followed the campaign of Kari Lake and all of the aftermath, posted the list on GETTR, along with more details:
"In case you missed it, this is the list of politicians and judges with falsified deeds linked to Sinaloa Cartel money laundering in Arizona, which was presented as evidence last Thursday in the AZ election fraud hearing. In other words, these people are allegedly owned by the Sinaloa Cartel! We know they stole the election in 2020. We know they stole the election in 2022. But this goes much deeper! And Doug Ducey knew this as early as May 2022 and did nothing! Tip of the iceberg!" Bergquam posted Sunday night along with the following graphic: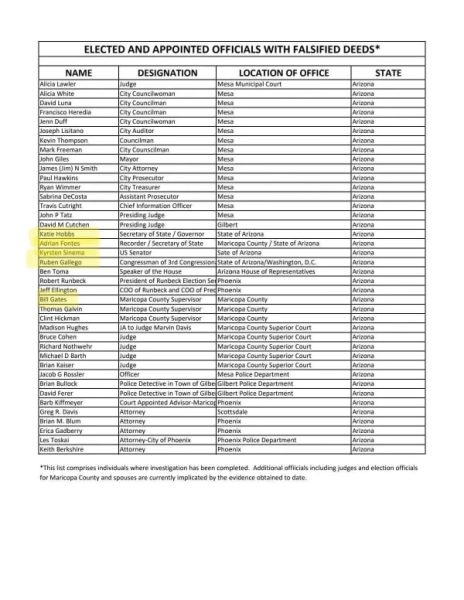 There is confirmation from multiple independent sources, including the Millennial Post,  that the above list is being discussed to the point it has frustrated many AZ Democrats, with one report being that "F-Bombs" were being thrown around after the hearing. 
MP reported: 
"A California-based law firm has accused Arizona Gov. Katie Hobbs, Secretary of State Adrian Fontes, Runbeck Election Services, and a slew of other election officials, mayors, judges, city councilman, and county supervisors in the state of receiving bribes from the Sinaloa cartel.
During a Thursday hearing before the Senate Elections and Municipal Oversight & Elections Joint Committee, the principal investigator for Harris/Thaler Law Corporation, Jacqueline Breger, presented their shocking findings, detailing how a money-laundering investigation in the midwest revealed alleged corruption in Arizona.
According to the information given at an oversight hearing during sworn testimony, Breger, an investigator from Scottsdale, AZ, told the board that the investigation that produced the evidence she gave the panel was from a RICO case. 
In the following video, Breger describes the process of money laundering through racketeering activities focused on real estate transactions.  Breger told the board that she and her partner have viewed over 120,000 documents of falsifying numerous documents, swatting and bribing elected officials.
Breger said that money laundering is connected to election fraud.  She said that she and her partner have met with Federal and State law enforcement, including Ducey.  They will release a book of 300 pages with 3.000 attachments.
The document above came from those attachments: 
VIDEO JUST IN: Sen. Elections and House oversight hearing testimony claims AZ Governor Katie Hobbs and her husband are laundering cartel money through fake deeds and mortgages.pic.twitter.com/IkTQQrakhj

— The American Tribune (@TAmTrib) February 26, 2023
Full testimony on Rumble:
All of this also- likely explains why elections officials did not want Bergquam to have access to the election data that was imperative to Kari Lake's campaign, and they banned him from getting other information about the counting process after the election by revoked his media credentials —– because he tells the truth.
See our coverage: