It is a terrible, no good, very bad day for media personality Don Lemon, who reported online Monday morning that he had been fired by CNN: 'I am stunned' and reaction online was instant mockery from most people, which shows how hated CNN and other media really is, in America. After social media mocked him and slammed him, CNN came in a disputed his statement as 'Fake News"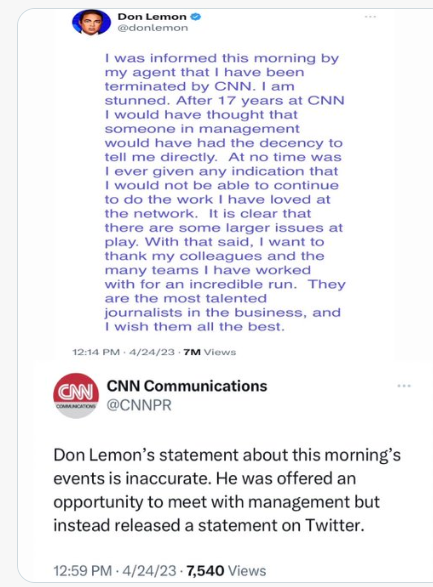 Don Lemon's statement about this morning's events is inaccurate. He was offered an opportunity to meet with management but instead released a statement on Twitter.

— CNN Communications (@CNNPR) April 24, 2023
Lemon was slammed by readers on social media for hours before that, with reference to nasty comments he had made earlier in the month about Nikki Haley:
April 24, 2023
The former anchor
shared the news in a statement on Twitter Monday
. "I was informed this morning by my agent that I have been terminated by CNN. I am stunned," he wrote. PLEASE VISIT OUR SPONSORS TO HELP KEEP US ONLINE
Get prepared today with a HUGE offer at https://t.co/1df5CeFCuX. Get a free AlexaPure Pro water filtration system with your 3 month food storage order! pic.twitter.com/VV9BTRqzBh

— Ben Bergquam – Real America's Voice (RAV-TV) News (@BenBergquam) April 23, 2023
Lemon continued, expressing frustration with the manner in which he says the news was delivered to him. "After 17 years at CNN I would have thought that someone in management would have the decency to tell me directly. At no time was I ever given any indication that I would not be able to continue to do the work I have loved at the network. It is clear there are some larger issues at play. With that said, I want to thank my colleagues and the many teams I have worked with for an incredible run. They are the most talented journalists in the business, and I wish them all the best." The news of Lemon's termination comes on the heels of 
reports of alleged misogyny in a lengthy piece from Variety
. In February, Lemon made headlines for 
offensive statements about Nikki Haley
, for which he apologized for in February. Lemon had been accused of making other offensive comments about women on air in the past – and, according to the Variety report released earlier this month, or inappropriate behavior toward female colleagues at network. The report alleges the anchor has disrespected former colleagues including Nancy Grace and Soledad O'Brien in a number of public settings, including on air and in editorial meetings. Variety interviewed more than a dozen former and current colleagues, many of whom were quoted anonymously. The report also included details on Lemon's alleged offenses to Kyra Phillips, with whom he co-anchored CNN's "Live From" in 2008. Phillips declined to comment on these allegations to Variety. A rep for Lemon told USA TODAY at the time that Variety's story was "riddled with patently false anecdotes and no concrete evidence." The report "is entirely based on unsourced, unsubstantiated, 15-year-old anonymous gossip," Lemon's rep added. "It's amazing and disappointing that Variety would be so reckless." A spokesperson for CNN added that the news network was "unable to corroborate the alleged accounts" contained in the report. Something interesting is happening to start the news cycle out for this week, as noticed by many people on social media:
Domestic Policy Advisor Susan Rice fired by Biden regime

Don Lemon fired by CNN

Tucker Carlson out at Fox just days after Dominion settlement

Dan Bongino out at Fox

Lara Trump out at Fox

Sure seems like there are big things going on behind the scenes

— DC_Draino (@DC_Draino) April 24, 2023
This story is still developing..