Ben Bergquam, host of Law and Border on Real America's Voice, appeared on the War Room with Steve Bannon on Monday, along with his associate Oscar El Blue Ramiriez, to highlight the out-of-control massive human migration from Southern and Central America- that is getting worse after Democrat Joe Biden and his administration have been openly seducing more and more illegal immigration over the US Southern borders and into the open borders of the United States.
Bergquam posted the video evidence of a massive crowd in an area where law enforcement says that over 4000 people a day gather to make their way to the US.
Under Joe Biden – that Obama-style transformation of our country has been reactivated after Trump stopped it for 4 years and is now a huge success for the Democrats.
This immigration was the 'hope and change' that they always promised and Bergquam got it on film.

WATCH and GO TO LINK FOR VIDEO:
Breaking: Lajas Blancas, Darien, Panamá, on the anniversary of 9/11 is completely overrun. Over 4000 people in one day all heading to America because of the invitation that Joe Biden, Secretary Mayorkas and the Democrats have sent to the world! Rather than protecting America,… pic.twitter.com/bXdsqhTPw7

— Ben Bergquam – Real America's Voice (RAV-TV) News (@BenBergquam) September 12, 2023
SEA OF PEOPLE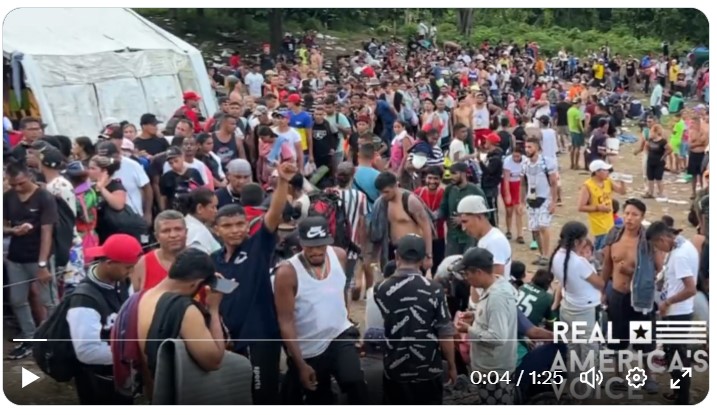 Here is the clip of Bergquam and Ramirez giving Bannon the details of what Bergquam. Bergquam said was behind the busses were about 4,000 people ready to head toward the US.
And there they are.
GO TO LINK FOR VIDEO:
Ben Bergquam And Oscar Ramirez Reporting From Darien Gap Say 4,000 Immigrants Cross Everyday https://t.co/BsHR90Zzp2

— Kari Baxter Donovan (@Saorsa1776) September 12, 2023
For our reporting on the Democrat-UN Global Compact for Migration, That Oscar El Blue talked to Bannon about: