Raleigh's own Julie Page made a reservation for 30 people for a "Happy Hour" gathering at the Raleigh hotspot, which boasts beautiful spaces and good food. Still, she found out later that that hotspot is only open for business for people who affirm homosexuality and Transgenderism in public.
This awesomeness is available only to people who pass a background check- including that of all of their civics groups' and come out of the side of pro-'LGBTQ+'- apparently.
And a leftist was happy to brag about it all on her TIK TOK.
See if you can follow this:
Page had anticipated that a group of her friends, some of which are members of her group, Moms for Liberty Wake Co, and other guests who were community members would enjoy.
So she called, and the venue accepted her reservation for a private space for 30 people.
However, Page was the victim of cancel culture just hours after inviting her friends to the space.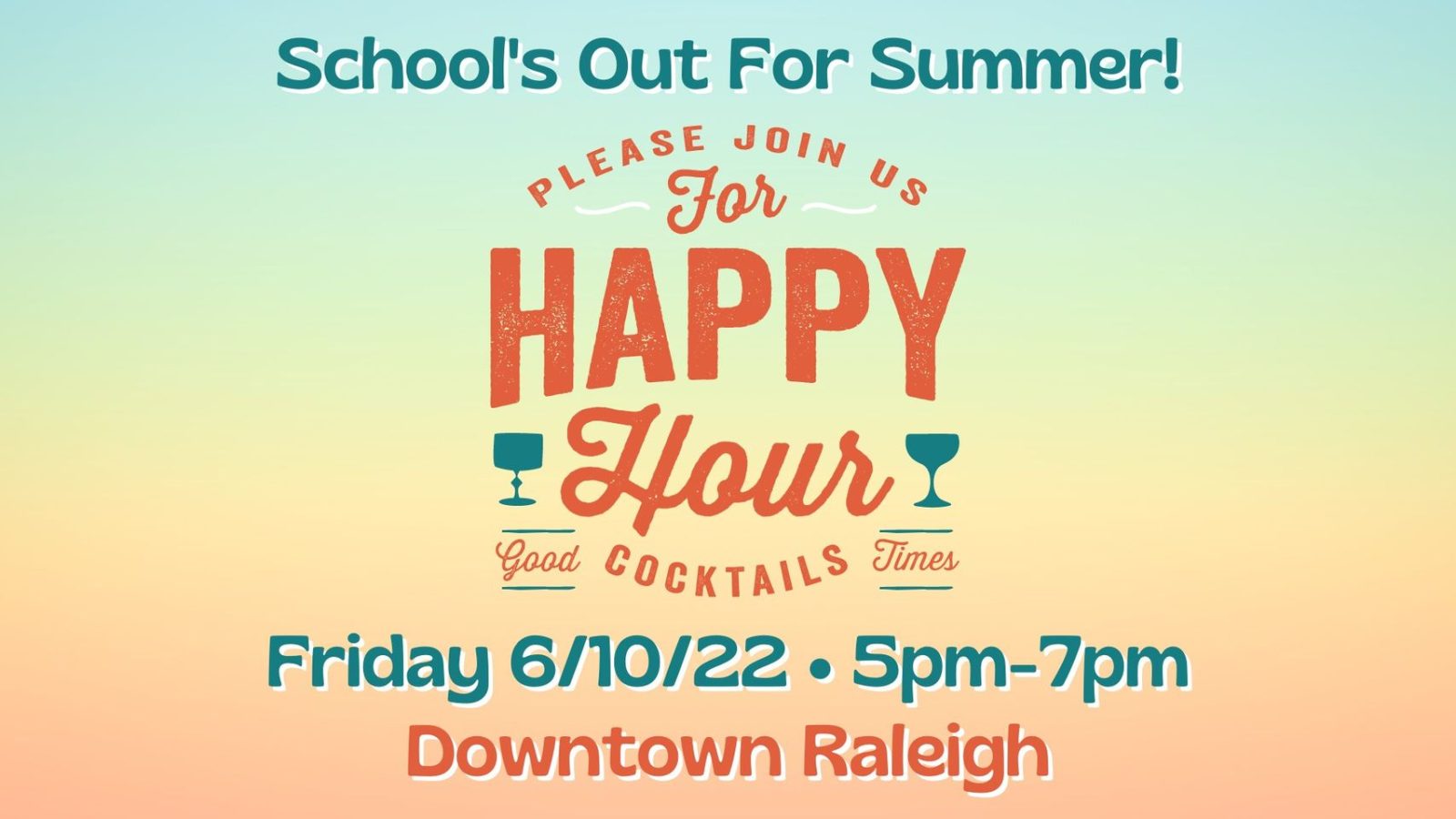 Page told me that she had made the location private, only telling people who she had invited because it was not an official Moms For Liberty meeting or rally.
Yet, somehow the venue found out about her background and association and felt threatened enough to cancel her reservation without any discussion or explanation.
After calling the restaurant, reserving the space in her name by phone, and confirming she had the room, she sent a private email. She posted something on her group's private Mom4Liberty Facebook page for people to inquire about the location if they would like to join her.
Within hours she received a nasty, unprofessional, and bombastic letter implying an investigation had been done on her background and that because of her affiliation with the group Moms For Liberty, Wye Hill was canceling the event.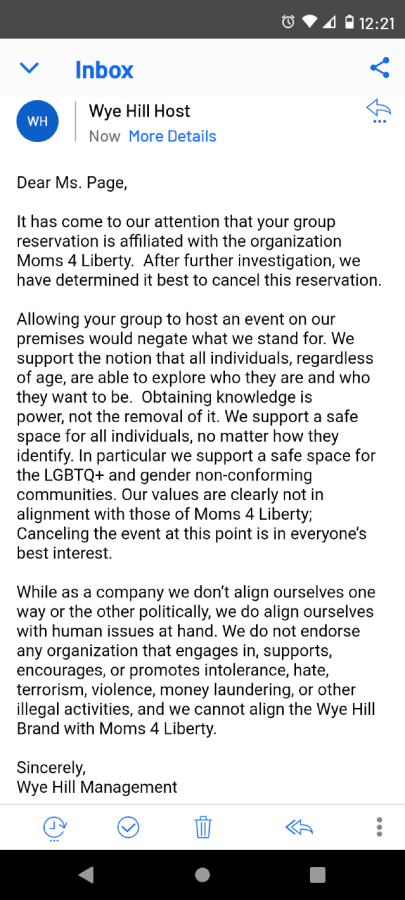 .Here is the content of the letter:
Dear Miss Page,
It has come to our attention that your group reservation is affiliated with the organization Moms4Liberty. After further investigation, we have determined it best to cancel this reservation. Allowing your group to host an event on our premises would negate what we stand for.
We support the notion that all individuals, regardless of age, are able to explore who they are and who they want to be.
Obtaining knowledge is power, not the removal of it. We support a safe space for all individuals. No matter how they identify in particular. We support a safe space for the LGBTQ +, and gender non-conforming communities. Our values are clearly, not in a line with those of Moms4Liberty.
Canceling the event at this point is in everyone's best interest. While as a company, we don't align ourselves One way, or the other politically, we do not align ourselves with human issues at hand.
We do not endorse any organization that engages in support and encourages or promotes intolerance. Hate terrorism violence money laundering or other illegal activities, and we cannot align the Wye Hill brand with Moms4Liberty.
Sincerely,
Wye Hill Management
But how did they know that she was a member of Mom For Liberty Wake Co , which is a bipartisan group, by the way, one that hosted Democrat primary candidates to join her and her group to speak to voters about school issues just weeks ago- and are in the same Triangle region of North Carolina?
After the word got out to local friends about what had happened with the cancelation, and after contacting me- who called the restaurant to get answers we have an answer – of who canceled Julie Page- by way of a Tik Tok video.
A woman who identified herself as Katherine Johnson made a victory lap on her TikTok page, and openly bragged about having enough power over Wye Hill that she got them to deny service to Julie Page:
I contacted the restaurant at 4PM on Wednesday and asked for someone to talk to about the cancelation. I identified myself as a reporter I left a message and never heard back anyone
Moms For Liberty is a national group of over 100,000 Moms, who are brought under the umbrella of being Moms who support each other. "The activism each chapter decides to take is based on the concerns of the community", Tiffany Justice- the co-founder of Moms For Liberty National- told me, so the attack on Moms For Liberty is wildly unfair.
Justice told me that she was sad that Julie Page was treated like she is being treated by Wye Hill, because Moms For Liberty is just a group of Moms who are concerned about their schools, and they are encouraged by national to be "Joyful Warriors'.
According to this Youtube video, Women's groups are accepted as patrons:
Perhaps that is only if they agree to publically affirm homosexuality?? And not be a member of Moms For Liberty?
And besides that, the meeting Julie was trying to have was just a group of people, some who might have been from Moms4Liberty, and others were from the community and not members.
So are background checks done on all Wye Hill customers? We don't know, they refuse to respond.
Page told me," I am shocked and deeply saddened with the blatant discrimination shown by this business who claims to be welcoming to all individuals. There is no evidence of any of the things Moms for Liberty of Wake County, NC is accused of. We are pro liberty, pro freedom, and pro parental rights."
We don't have any answers as to why this restaurant discriminated and denied service to Page and her guests.
Numerous attempts were made to contact the owners of the business and any managers for comments, and no calls were returned.