Donald J. Trump hosted a large political rally in Selma, North Carolina, on farmland in rural Johnson Country; that was an exciting event with cookouts, music, and dancing, creating a party-like atmosphere- and of course, there were compelling speeches- significant political speeches.
Even though Trump supporters feel embattled with the loss of the presidency to Democrat Joe Biden, rally attendees reported feeling sad, angry and frustrated about politics- but hopeful in Trump and the future.
Most importantly what people said- when given a platform to speak about their thoughts, Trump supporters reported that they are not giving up on him, or on the American dream, or on voting. They plan to vote in North Carolina.
Some are even getting more active with the Precinct Strategy– and working harder on their activism.
A group of Asian Pacific voters from Chapel Hill and Cary who fled China and the Chinese Communist Party told me that they still support Trump, and believe in America.
Making sure to put her "Let Go Brandon" face mask on, one woman told me: "I love Trump because he puts Americans first and because he is a businessman."
"We love Trump and we are here today to support him, in between our door knocking. Trump has American values. We want to keep America as America," another woman told me. "I support Trump because he is not going to let the wars continue. We want Biden to get out. He has to go. He is involved with the CCP and that is very evil. We want America First. Trump has common sense," another said.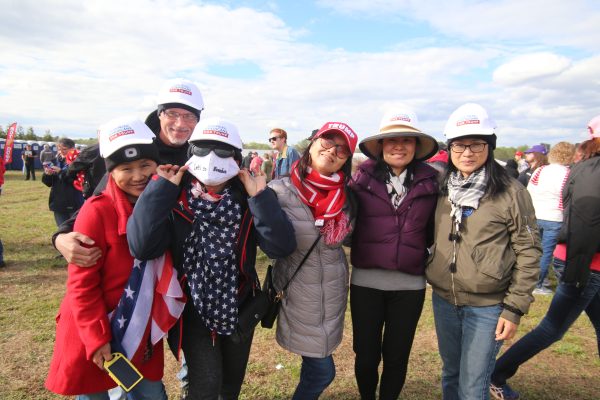 There was a lot of fun and dancing.
From the Selma North Carolina Trump Rally! Someone tell the left, life can be fun, just be #MAGA! 😉🕺🏽🇺🇸@RealAmVoice pic.twitter.com/xNv5AmKZJB

— Ben Bergquam – Real America's Voice (RAV-TV) News (@BenBergquam) April 9, 2022
And great speeches.
Mark Robinson talked about the American Dream, encouraging the audience that the American dream was not dead because he is living proof of that it is alive- thrilling the audience.
WATCH: NC Lt Governor Mark Robinson Gives Impassioned Speech at record-setting Trump Rally in North Carolina pic.twitter.com/NX2tmEel0J

— The Patriots Gazette (@ThePatsGazette) April 9, 2022
Highlights included Robinson, who enjoys major popularity with North Carolina voters and made news go viral by endorsing US House Rep. Ted Budd- who is running for US Senate in a crowded field.
Thank you President Trump and @markrobinsonNC for your support at tonight's rally in Selma! Early voting starts April 28th, let's keep the momentum going! pic.twitter.com/RlJvLfSD0V

— Ted Budd (@TedBuddNC) April 10, 2022
US House rep. Madison Cawthorn, who is running for re-election, stood to give a rousing and inspirational speech. He was a crowd favorite.
With GOD all things are possible! 🇺🇸 pic.twitter.com/0UhkwGzZ0k

— Madison Cawthorn (@CawthornforNC) April 9, 2022
Ben Berquam, a popular figure at these rallies, interviewed people for Real America's Voice programming and mingled with attendees for hours. Rally participants were excited to see Bergquam and recognized him immediately for his courageous work on the border.
More people at a #TrumpRally than all of Fraud Biden's events combined! Expose the left, take back America! #MAGA@RealAmVoice pic.twitter.com/m1zkjLRLEl

— Ben Bergquam – Real America's Voice (RAV-TV) News (@BenBergquam) April 9, 2022
The presence of Real America's Voice in the crowd with the people, was important to note. Attendees said they still feel very ignored by the media, and that the media does not represent them well when describing supporters of Trump- or as Republicans, and that the media is not giving them the information they trust and need.
But they trust Ben who they noticed has good relationships with other top newsmakers.
Ben said hello to Mike Lindell, a sponsor of his.
God Bless Mike Lindell and #MyPillow! https://t.co/kr0NLAxQ41 promo code: Frontline

Trump Rally, Selma South Carolina! pic.twitter.com/0e8LQrTW6w

— Ben Bergquam – Real America's Voice (RAV-TV) News (@BenBergquam) April 9, 2022
"Ben is who I have been watching for Real News. I have watched him for years and I trust him. He always lifts me up when I feel discouraged," Brenda McNeely, told me. McNeely said she has been watching Bergquam since he did livestreams with his friend- fellow livestreamer Will Johnson. "I am a huge Trump fan, and this is my first rally. I got up at 5:30 AM to get tickets and drive here." she said. "I can't believe I am just standing here and there is Ben Bergquam! I just want him to know that I really trust him," McNeely said.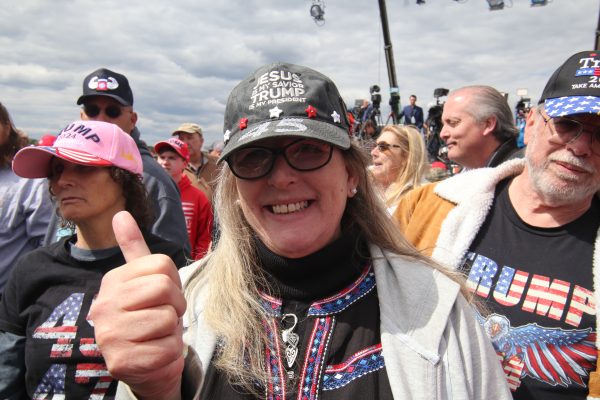 Rally attendees talked to about their support of Trump still, because he never left the fight.
"I am here still, and I am not giving up because President Trump never gave up," one woman told me, who was with a group of 4 people who said they all are Primary voters and planning on voing early.
"I have been paying attention to Trump since I was a little girl. I am not giving up on him now,"she told me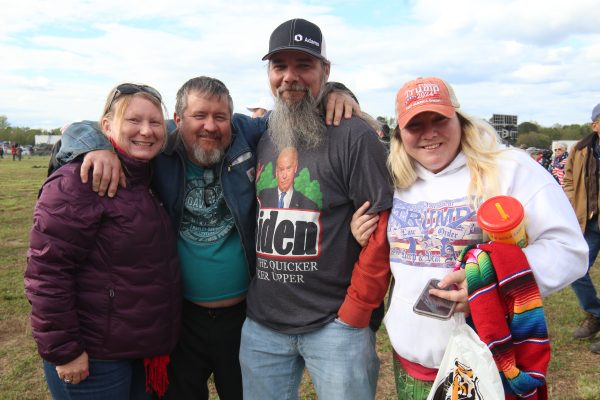 "I was a Democrat until 2016 when I had just started a new job as a plumber, and all of the plumbers there were really saying great things about Trump- and I said- that is it. I like this guy, Trump. I drove 14 hours to be here, from Boston, "Keith Puopolo told me. When asked what fueled him to keep supporting Trump, in liberal Boston- he said: "I am still going, because Trump is still going. I am not giving up on America either."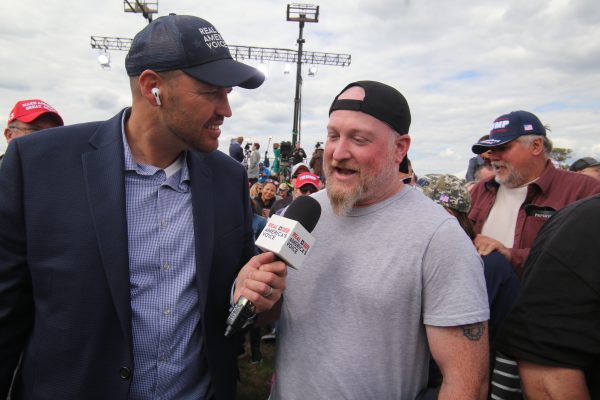 A group of women who drove from Outerbanks are of North Carolina, told me they travel around to Trump rallies, because they enjoy the company of other Trump supporters, and just attending the rally energizes them in ways nothing else can when they are frustrated with politics.
A group of men who run online merchandise stores, who are from Grahm North Carolina, told me they are primary voters as well.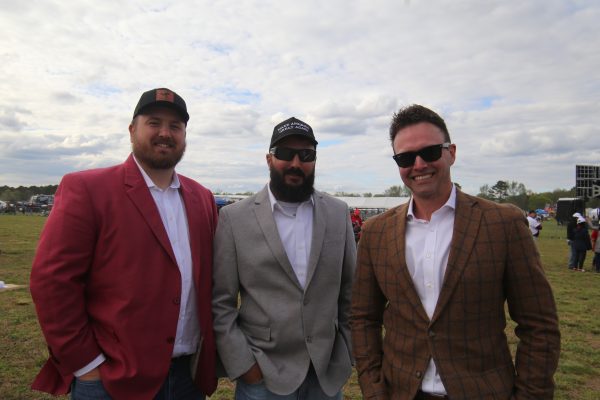 Ben was recognized by a young audience as well, who are not old enough to vote yet- but who are learning about the political process.
And one young woman who stood for a long time to talk about her point of view: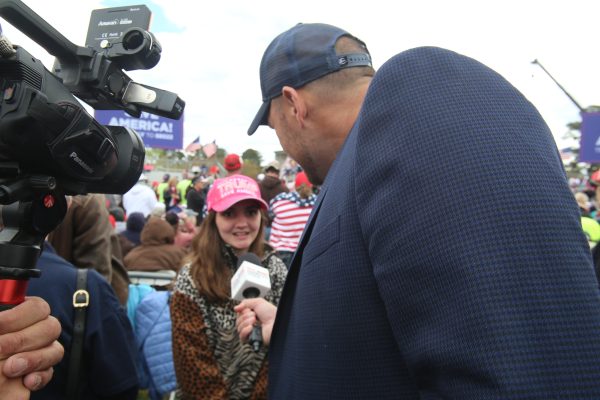 One Grandma from Oak Island, who had traveled to the rally with friends, talked about her grandson who she worried about who is in the 82 Airborne. She told Ben about her concerns that Joe Biden is not a safe leader.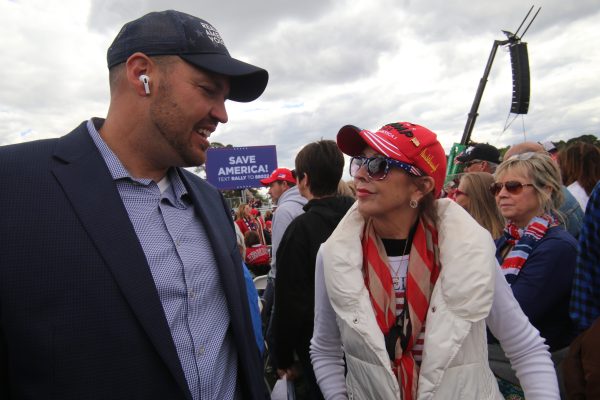 And Kim Chaffin, a small business owner, from Chesapeake Virginia, who calls herself a "Navy Brat', said that she believes Trump is still involved with directing politics, but not signaling everything that he is doing. She believes that when Trump is elected in 2024, that it will be his third term. "I still support Trump because I believe in him," she said.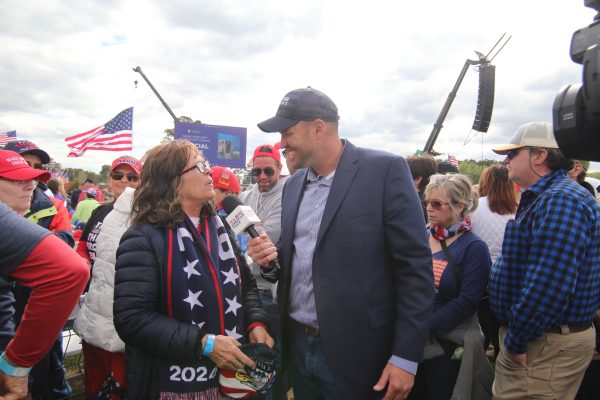 Early voting in North Carolina begins on April 28 and goes until May 17 in North Carolina and the rally attendees were in large part primary voters.