If the Government doesn't work for the people, why should the people care if it gets shut down? The massive administrative state doesn't exist as a giant welfare program for the elite- does it?
Here are the massive number of Federal agencies we fund as US Taxpayers- and remember NONE of them are in East Palestine helping the people there.
Ben Bergquam, a correspondent for Real America's Voice and host of Law and Border, took the opportunity of visiting East Palestine this week to participate in a church service for the forgotten families and citizens in Ohio who are facing painful days of confusion, frustration and sadness after their community was purposefully "bombed" with a massive, toxic chemical explosion as a resident in the area described it- after a Norfolk and Southern train derailment happen in their hometown, in early Feb. 2023.
One guest showed a photo of the explosion on Wednesday to Ed Henry and Karen Turk, which made the area around the photographer look like a scene out of Armageddon. The photo was taken from the day a derailed train was set ablaze in what the government is calling a "controlled burn":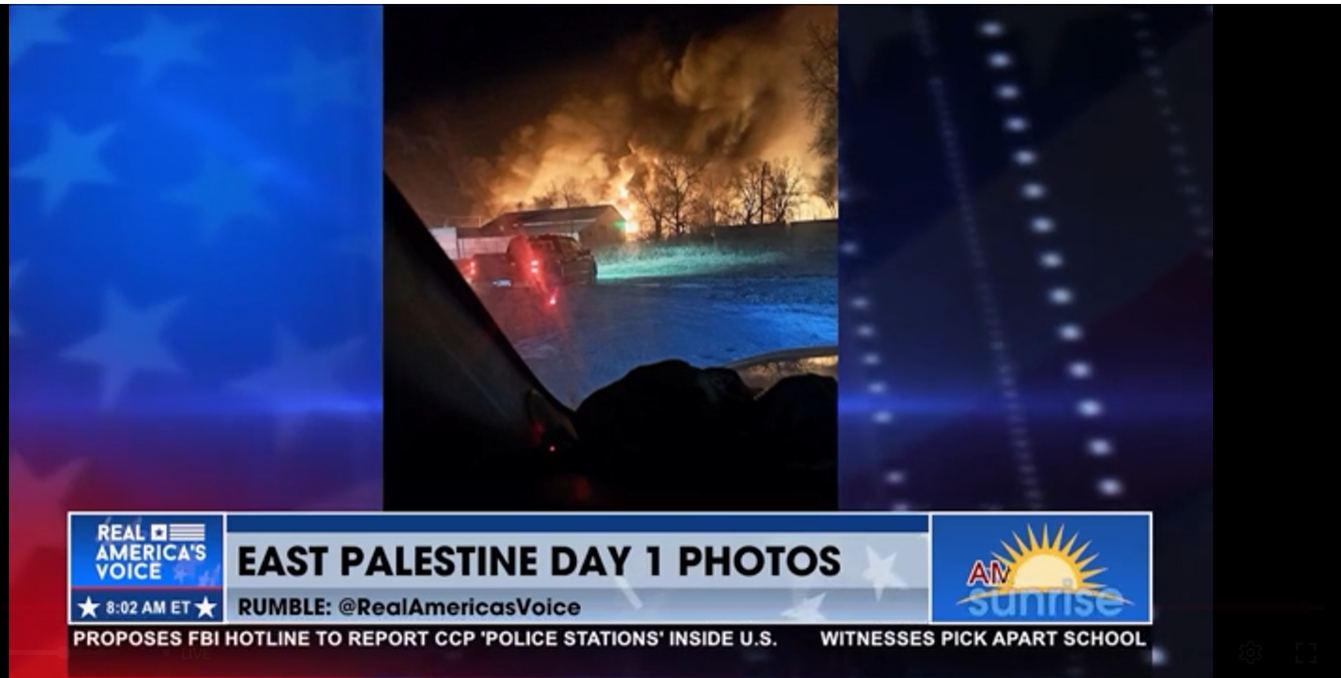 Residents of East Palestine and the surrounding area reported to the show hosts of Real America's Voice shows, during the live filming on Tuesday and Wednesday that they are experiencing rashes, chemical illnesses, persistent and nagging cold-like symptoms, and concerns about cancer-related illnesses which are all known side effects of chemical poisoning.
And the government is doing nothing at all to address their concerns, leaving all intervention to the citizens in the area and a handful of workers who are not aware of any long-term plan for the area or the people there.
A guest of the show named Tammy, with a Facebook page titled East Palestine Off The Rails spoke with the War Room about her frustrations:
Many residents reported they feel abandoned.
Bergquam posted an inspiring clip from his visit to a local church, saying that he was "bringing some hope out to East Palestine", during a two-day Town Hall for Real America's Voice. And while we as Christians know that the Lord will provide, it would be nice if the government we fund would answer simple questions to assist the people they are supposed to be serving.
On the show of particular interest to Steve Bannon, host of the War Room, were families with children who have some simple medical issues that could be addressed so effortlessly by a massive federal government that has unlimited funds and resources- yet they will not take any time to answer simple questions.
And that is because they do not care as Bannon said during his live broadcast on Wednesday. For two hours, Bannon brilliantly made the case that his assessment of the "administrative state" in the case of East Palestine was absolutely right.
The Federal government does not care about small children with rashes, families being torn apart from stress, or business people unable to work because of the distractions of a worried community.
The government is not performing the most simple and basic tasks. Their lack of reaction seems like criminal neglect. And that would make sense considering the live town hall happened at the same time Citizen Journalist Benny Johnson uncovered that the Democrat administration of Joe Biden and his leftist Transportation secretary Pete Buttigieg are literally picking Blue State winners to reward with government resources- and Red State Losers to be left struggling all alone.
And this discussion happens at a time Bannon pointed out that the Federal government is facing looming shutdowns. Shutting down the government is no concern of the abandoned people of East Palestine.
The Federal government has massive federal spending and lengthy conversations about how we as a nation need to focus on the potential suicide of a few transgender people- yet they will do nothing at all about a community of hurting people.
US Rep. House Speaker Kevin McCarthy has addressed the Federal government that they are out of control, starting up a discussion about the possibility that Republicans- who hold power- may actually let the government shut down:
Bannon encourages the residents to organize protests so the media will pay attention to them. On Saturday, Bannon and the War Room plan to revisit the area when a protest is scheduled to do just that.
This story is unfortunately still developing because the Federal government is a failure.
Easter Egg Hunt Protest –Facebook Event Link
DAY ONE COVERAGE: