Ben Bergquam reported to Real America's Voice with US Rep. Majorie Taylor Greene (R-GA), who together exposed that the group in the Cannon Rotunda was from a group called "Global Intifada," and they were not peaceful Jewish college students, as reported by the corporate media.
Earlier in the day, before the interview with MTG, Bergquam uncovered emotionally violent protests on Wednesday HERE.
In the joint interview, the two reported on- and highlighted- a grave concern they shared about the invasion of the United States, especially in light of Bergquam's reporting earlier in the month about the increase in the crossing of Middle East terrorists over the US border, as we have covered extensively on Frontline.
MTG is so concerned about the increasing threats to the US, she has demanded the Capitol Police preserve of all video and records from Wednesday, Oct. 18, 2023 for further investigation.
And for good reason- check out reporting from this week about who is crossing the open border, then consider what MTG is concerned about:
" I am formally requesting that the United States Capitol Police preserve all video surveillance footage, photographic evidence, police reports, and arrest records from all House Office Buildings on October 18, 2023," MTG posted on Twitter.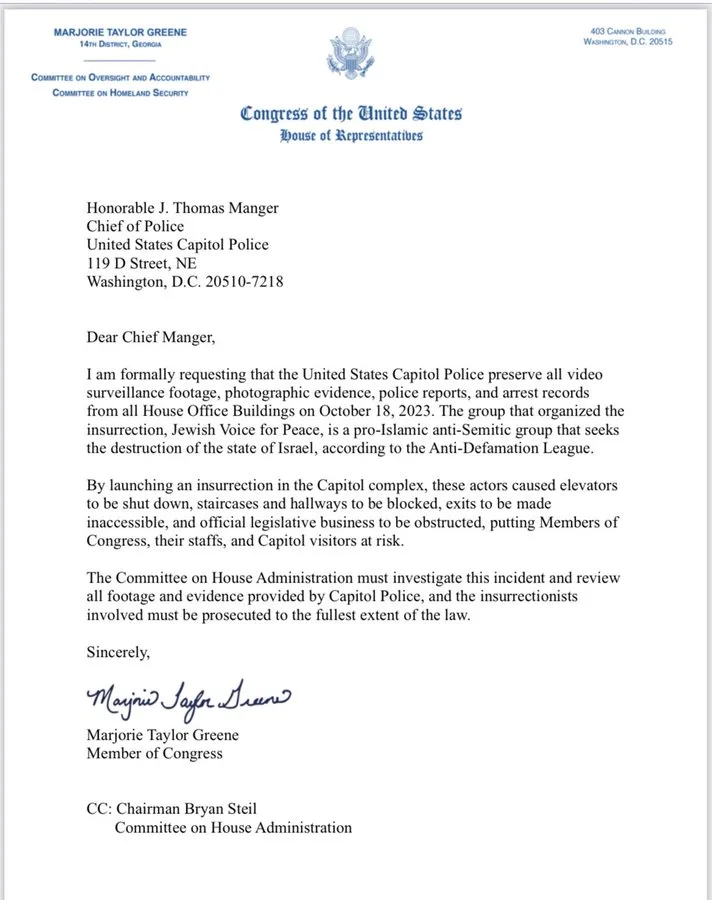 "Today @RepRashida followed Hezbollah's orders for a "day of unprecedented anger." She organized the occupation of the Cannon office building with radical Global Intifada group and anti-Israel activists JVP. Tlaib is a terrorist sympathizer and does not belong in congress!," MTG Tweeted.
Bergquam joined her in her concerns for the country and the nation's capital.
"#GlobalIntifada… That's who these guys were at the Capitol today. Don't let the mainstream media lie to you. This was a pro-terrorism insurrection! I saw it with my own eyes as they threatened@RepMTG @mtgreenee," Bergquam reported on his Twitter.
"GOLBAL INTIFADA!!! It's an Arabic rebellion and uprising!!! Photo of one of the insurrectionist phones!!! These people are NOT for peace!" MTG Tweeted.
Here is what MTG's staff saw: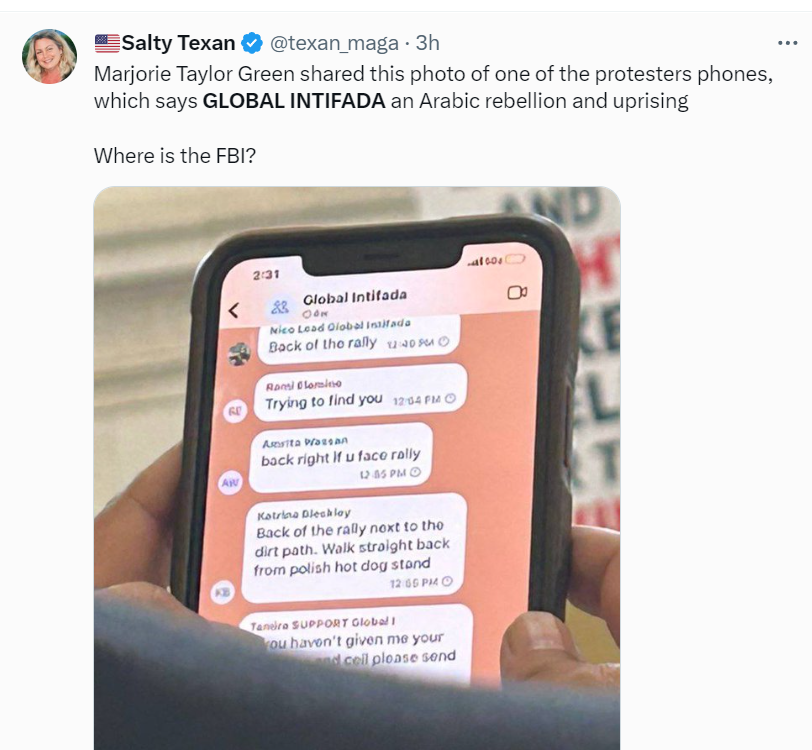 WATCH MTG'S TWEET HERE OF BERGQUAM'S COVERAGE- INTERVIEW ON REAL AMERICA'S VOICE
Bergquam also appeared on the War Room with Steve Bannon to talk about what he saw and to interview the crowd to determine if any of them had concerns about the way Hamas had treated the Jewish people they murdered last week, and the response was very telling about who it was who took to the streets of DC on Wendesday:
More research about the Global Intifada
More of our coverage from Wednesday: